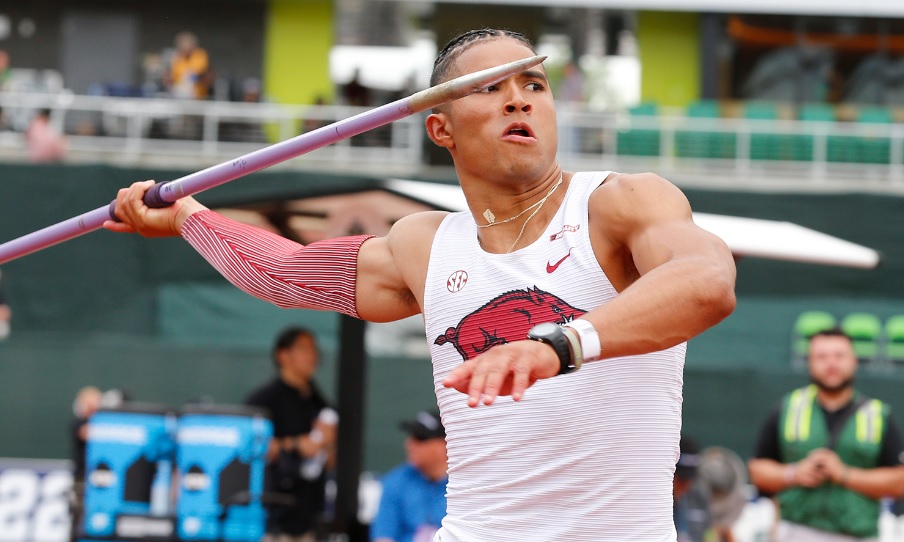 Ayden Owens-Delerme Claims Another NCAA Title, Equals Decathlon Meet Record
EUGENE, Oregon – Razorback Ayden Owens-Delerme captured the NCAA title in the decathlon, equaling the meet record with a score of 8,457 points at Hayward Field on Thursday.
"It's great to get 10 points for the team and win a national championship to follow up my indoor title," stated Owens-Delerme. "I'm in the company of some great athletes who have won both indoor and outdoor titles in the same year."
Owens-Delerme joins an elite group in winning the NCAA Indoor heptathlon and NCAA Outdoor decathlon in the same year. This is the fifth time it had been done since 2009.
Oregon's Ashton Eaton accomplished the feat in 2009 and 2010. Kentucky's Tim Duckworth completed the task in 2018, and Georgia's Karel Tilga produced a double win in 2021.
Heading into the final event, the 1,500m, Owens-Delerme enjoyed an 11-point edge over Leo Neugebauer of Texas and 44 points over collegiate record holder Kyle Garland of Georgia.
"It's different, stress-wise it's a lot easier," noted Owens-Delerme. "In order to run fast, it hurts worse. I would rather go as hard as I can and have that mentality to be able to push and run some PR.
"I'm content with what happened today. It ties the meet record, I'm a national champion."
After clocking a 4:29.54 for 748 points in the 1,500m, Owens-Delerme equaled the meet record score set by Oregon's Ashton Eaton in 2010 and built a 95-point lead over Neugebauer, who generated a career best of 8,362 points and a 124-point margin over Garland, who finished third with a tally of 8,333.
The second day began with Owen-Delerme running 13.93 (984 points) in the 110m hurdles, tossing the discus a career best 151-9 (793), vaulting 14-9.5 (679), and hitting a career best 183-11 (679) on his final attempt in the javelin.
Knee pains during the pole vault limited Owens-Delerme, who has vaulted over 15 feet indoors and outdoors. Producing career best marks in the pair of throwing events on day two, kept Owens-Delerme in the hunt for the NCAA title.
"I was just trying to keep the energy light, and my mental side stable," said Owens-Delerme. "I ended up executing my discus throw, which boosted me in the points unexpectedly. I followed that up with a decent vault and a PR in the javelin. Then I brought it home in the 1,500m."
(Photo and press released courtesy of Arkansas Athletics).