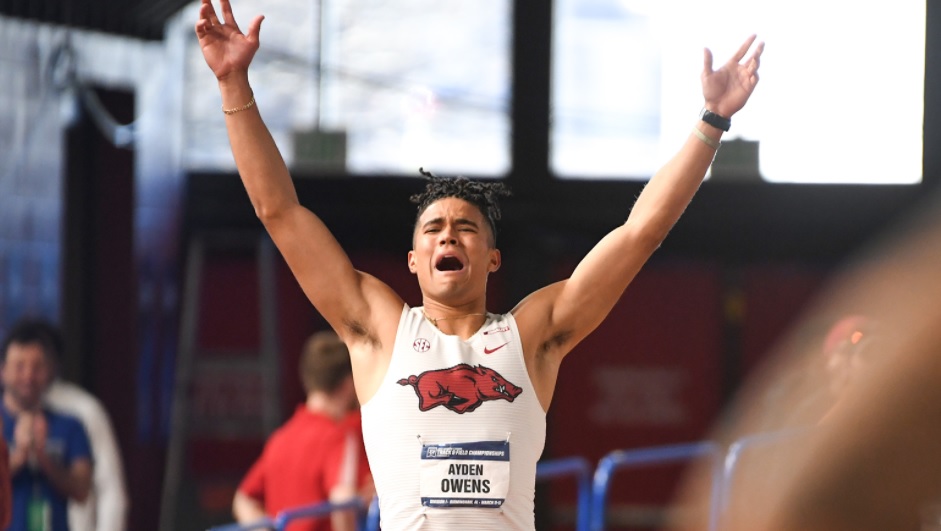 Ayden Owens-Delerme Named SEC Field Athlete of the Year
BIRMINGHAM, Ala. – SEC Outdoor honors for the 2022 season included accolades for a pair of Razorbacks as junior Ayden Owens-Delerme was named Field Athlete of the Year  as voted upon by league coaches.
Accomplishments for Owens-Delerme during the outdoor season included a then collegiate record in the decathlon when he scored 8,528 points to win the Mt. SAC Relays decathlon.
Within that performance, Owens-Delerme also established decathlon collegiate best marks for the 100m (10.27) and 400m (46.12) while generating the fifth-best day one collegiate score of 4,483 points.
In the SEC Outdoor Championships, Owens-Delerme placed fifth in the 110m hurdles, ran third leg on a silver medal 4 x 100 relay, and ran the lead-off leg of the 4 x 400 relay which placed sixth.
Having qualified for the NCAA Championship field in the decathlon, Owens-Delerme assisted with the 4 x 400 relay during the NCAA West Preliminary rounds. He ran the first leg, with a split of 45.9, as Arkansas advanced on time to Eugene.
During the indoor season, honors for Owens-Delerme included the USTFCCCA National Field Athlete of the Year following his first ever NCAA Indoor championship in the heptathlon. He was selected to The Bowerman watch list and named the South Central Field Athlete of the Year.
(Press release and photo courtesy of Oklahoma Athletics.)