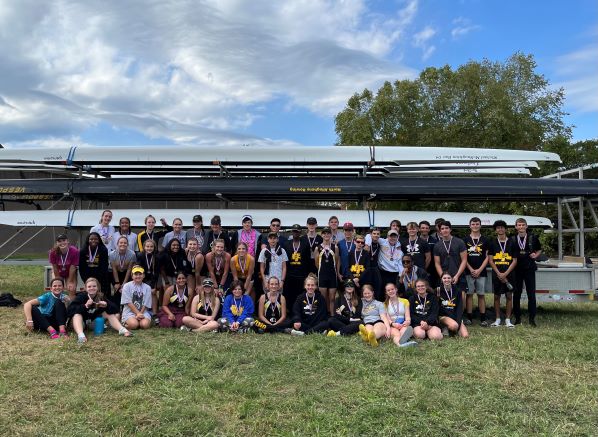 Big Day For NA At Morgan Grimm Memorial Regatta
North Allegheny Rowing traveled to West Virginia on Sept. 24 to participate in the 6th Annual Morgan Grimm Memorial Regatta hosted by Parkersburg High School for the second year. The Tigers had a very successful season opener securing seven gold, five silver, and two bronze medals, and every athlete brought home a medal from at least one of their races.
The day started off with the Women's Varsity quads taking Gold & Bronze (Tabo Mkandawire, Alex Witzel, Lorelei Schreiber, Aine Ridenour & Alan Boronski, Kathy Zema, Arshia Zaidi, Boe Sumerlin) The Novice Men 4+ followed in their first race ever, they brought home gold leading the field by over 3 mins (Miles Rees, Cooper Lemon, JD Petro, Carson Carona,C- Evie Disque) The Tigers two entries in the Women's 4+ followed securing both gold and silver (MayrKate Griffin, Sawyer Wright, Athena Huber, Zahra Evans C- Lauren Keyser & Mandy Adduci, Abby Berger, Jordan Quatchack, Grace Thomas C- Kiki Majerac) The men's quads followed quickly behind on the course, Braden Lemon Zach Stamper Jackson Rogers Caleb Sanders took first over Steel City who in turn just edged out bronze medalists Mason Pavely Josh Dubouvecky Anthony Bertucci and Layton Wright.
Tabo Mkandawire & Aine Ridenour took to the course for their second race of the day in the Women's Varsity 2x, taking silver to Sylvan Scullers in a field of 7. Novices Emily DiDonato and Madison Rogers' inaugural race was in the Women's Novice 2x and they brought home silver. Their novice teammates Noa Adelman, Madison Lambert, Natalie Helffrick, Alexandra Edfors, and C- Ava Moore followed them on the course in the Women's Novice 4+ placing second.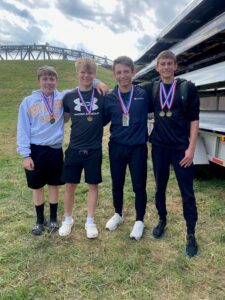 The Varsity Men started to head out for their second race late in the morning in the 2x events. Braden Lemon and Caleb Sanders finished second in the deep field of 8 entries. Novices Carson Carona and JD Petro took to the course again and secured their second medal of the day taking gold again. Just behind them were the last events of the day, the men's novice 8+ and women's varsity 8+oth lineups commanded the race and took gold. (Roman Bellassario, Swaroop Hebbara, Cooper Lemon, Christian Sperandeo, Alex Repinski, Nolan Bunn, Charles Potter, Spencer Vincent C- Lucan Pater) (Sawyer Wright, Addy Cooper, Kathy Zema, Vanessa Edfors, Athena Huber, MaryKate Griffin, Zahra Evans, Alana Boronski – Evie Disque)
The Tigers race at home in downtown Pittsburgh on Sunday at the Head of the Ohio.