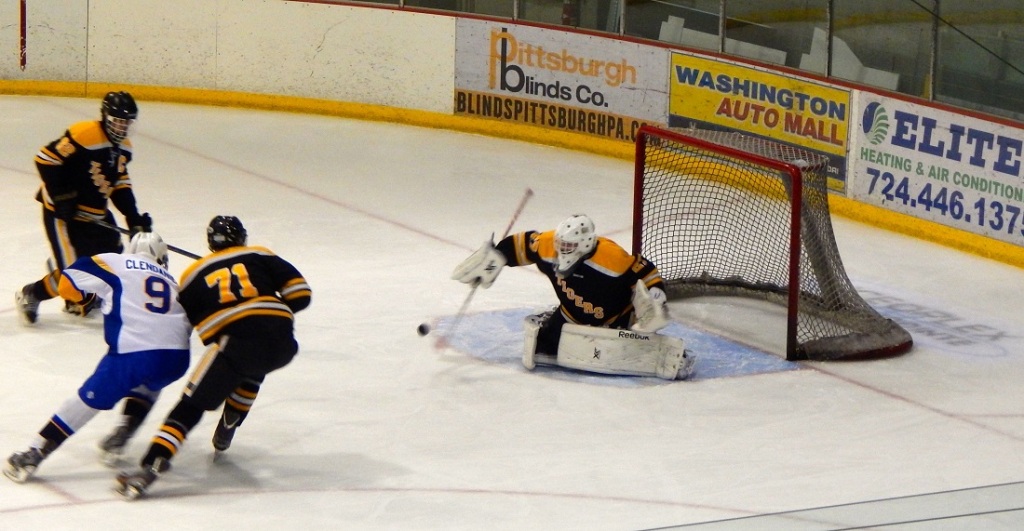 Big Macs Edge Tigers, 3-2
Jacob McClelland's goal with 6:49 remaining in the third period provided Canon-McMillan with a 3-2 win over North Allegheny on Tuesday night at the Iceoplex in Southpointe. The game winning goal was assisted by Colman Slain and Zachary Mansmann and capped an exciting early season contest between two perennial Penguins Cup contenders.
In a see-saw battle, North Allegheny took the first lead of the night on a goal by Paul Gonchar at the 5:05 mark of the first period.  The Big Macs tied the game with six seconds remaining in the period, however, as Christian Stewart evened the score at 1-1.
Canon-McMillan carried its momentum into the second period with a goal by Luc Lavella just 25 seconds into the period and the score was 2-1, Big Macs. In the third period, the Tigers posted a quick strike of their own courtesy of a Tyler Wilson marker.  The Wilson goal, tying the game at 2-2, was assisted by Matthew Heil and Dawson Richard and came with only 52 seconds expired in the third. Unfortunately for the Tigers, McClelland's goal with 6:49 left broke the tie and sent the Big Macs on to a 3-2 victory.
The loss drops North Allegheny to 2-1 on the season, while Canon-McMillan improves to 3-1.The Tigers are back in action on Thursday night with a home meeting with State College. The puck drops at 8:00 pm from Warrendale.
Ice Hockey Summary vs. Canon-McMillan, 10-21-14
| GAME SUMMARY | | | | |
| --- | --- | --- | --- | --- |
| SCORE BY PERIODS | 1 | 2 | 3 | FINAL |
| North Allegheny | 1 | 0 | 1 | 2 |
| Canon-McMillan | 1 | 1 | 1 | 3 |
Ice Hockey Individual Scoring vs. Canon-McMillan
| INDIVIDUAL STATS | | |
| --- | --- | --- |
| FIRST PERIOD | | |
| North Allegheny | Paul Gonchar (Rob Randig) | 5:05 |
| Canon-McMillan | Christian Stewart (Austin Tonkovich) | 16:54 |
| SECOND PERIOD | | |
| Canon-McMillan | Luc Lavella (Tonkovich, Jack Clendaniel) | 0:25 |
| THIRD PERIOD | | |
| North Allegheny | Tyler Wilson (Matthew Heil, Dawson Richard) | 0:52 |
| Canon-McMillan | Jacob McClelland (Colman Slain, Zachary Mansmann) | 10:11 |