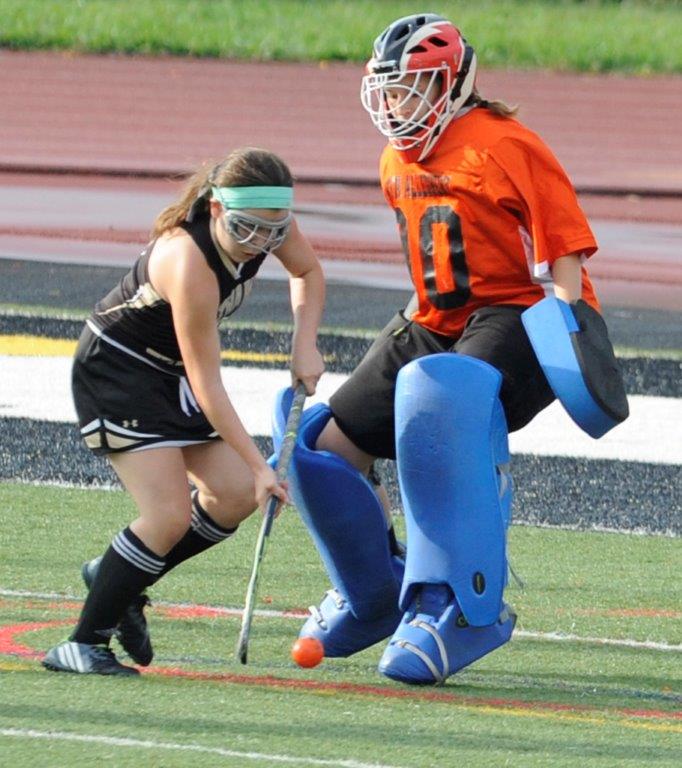 BLAZERS SINGE LADY TIGERS 3-0 IN SEASON OPENER
The NA girls' field hockey team traveled to Shaker Heights, Ohio Friday evening to face the Hathaway Brown Blazers in the season opener for both teams.  Returning only three starters from last year's section championship team, the Lady Tigers expected that it may take some time to get acquainted with each other to start the season.  Facing the experienced Hathaway Brown team proved to be a difficult test from the get-go.
The experienced Blazers controlled much of the possession in the early stages.  Although strong play from the Tigers' midfield of senior Brooke Cameron and sophomores Bridget Russell and Laura Schwendeman kept NA close through much of the first half, the Blazers broke the ice with 13:18 left in the half on a beautiful shot by Maren Butler, who lifted a chip shot over Tigers' goalie Rena Israel.  Some three minutes later, the Blazers scored again on a breakaway goal from Christine Coyne, which gave Hathaway Brown a comfortable 2-0 halftime lead.
The second half saw more of the same as the Blazers consistently penetrated NA's defensive circle for scoring opportunities.  Tigers' goalie Katie Shideler stood on her head time and time again, stopping 11 of the 12 shots she faced in the second half.  Despite her efforts, the Tigers were unable to mount an offense to combat the Blazers' consistent pressure.
For the game, the Blazers outshot the Tigers 22-0.  It was a testament to the outstanding play of Israel and Shideler that the game ended 3-0.  The Lady Tigers are back in action tomorrow against another Ohio powerhouse in Hudson at 1:30 pm (JV at 3:00 pm).
GAME SUMMARY
SCORE BY HALVES                             1              2              FINAL
NORTH ALLEGHENY                         0              0              0
HATHAWAY BROWN                         2              1              3
INDIVIDUAL STATS
FIRST HALF
Hathaway Brown                  Maren Butler             13:18
Hathaway Brown                  Christine Coyne         9:58
SECOND HALF
Hathaway Brown                  Coyne                         22:30