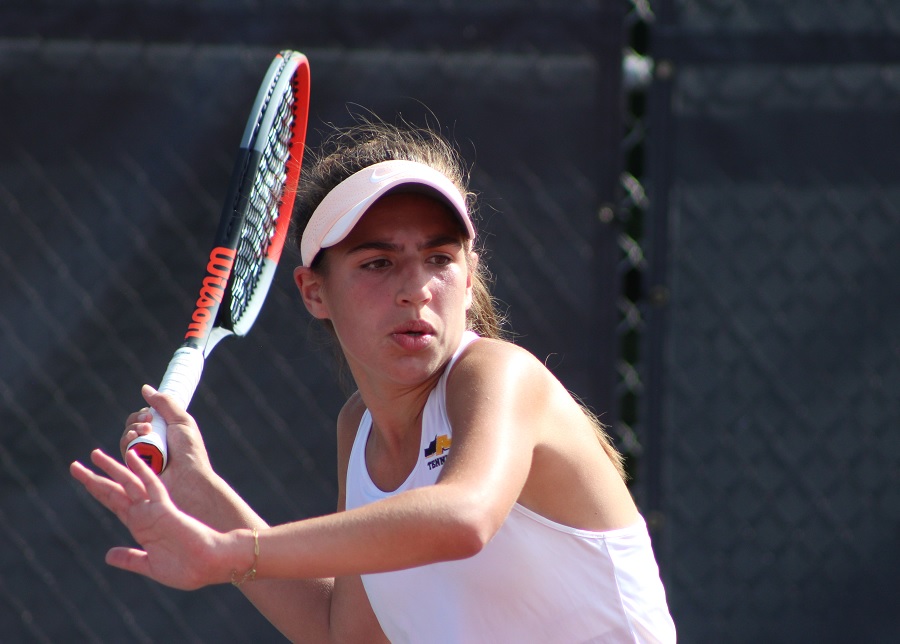 Blue Devils Edge Tigers, 3-2
In a tough non-section tuneup on Tuesday afternoon, the North Allegheny girls' tennis team dropped a narrow 3-2 decision to the Mt. Lebanon Blue Devils.
The Tigers earned a pair of victories in singles play as junior Sara Fernandez and senior Emily Wincko prevailed in their respective matchups. At No. 1 singles, Fernandez defeated Sophia Cunningham, 6-3, 6-3. Wincko collected a 6-1, 6-2, triumph over Jessie Yang at No. 2 singles. Despite NA's success in singles action, Mt. Lebanon swept doubles and earned a decisive win at No. 3 singles.
North Allegheny slips to 7-2 overall following the loss. The Tigers will return to action on Monday for a section matchup with Butler. In the meantime, the section singles tournament will take place this week on Wednesday and Thursday at NASH.
Girls Tennis Summary vs. Mt. Lebanon, 9-13-22
Match Summary

MT. LEBANON - 3
NORTH ALLEGHENY - 2

SINGLES
#1
Sara Fernandez (NA) def. Sophia Cunningham (ML)
6-3, 6-3
#2
Emily Wincko (NA) def. Jessie Yang (ML)
6-4, 6-2
#3
Jackie Tang (ML) def. Abbey Swirsding (NA)
4-6, 6-3, 6-3
DOUBLES
#1
Carly Grant/Sylvie Eriksen (ML) def. Reagan Dougherty/Eileen Hu (NA)
3-6, 6-4, 6-3
#2
Ana Oliveira/Ellie Tatel (ML) def. Tia Soussou/Siya Jain (NA)
7-6 (7-3), 6-4