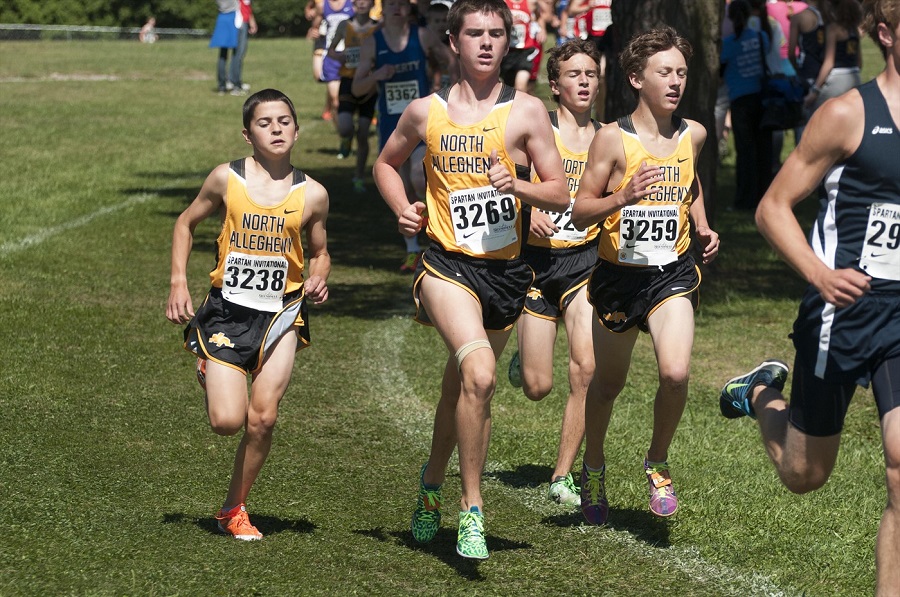 Boys Cross Country Finish 2nd, NA Girls 9th At PIAA Championships
After a fourth place finish a year ago, the North Allegheny Boys Cross Country Team garnered a silver medal at the PIAA Cross Country Championships this weekend. The Tigers took second place with a team score of 97, 37 points behind state champion West Chester Henderson. Pacing the Tigers was senior Cordon Louco who finished in 14th place with a time of 16:35.  Junior Matt McGoey followed right behind Louco in 15th place and a time of 16:35.  Junior Hunter Wharrey took 19th with a time of 16:49.
The Lady Tigers Cross Team delivered a ninth place showing the state championships with a team score of 266.  Unionville won the state title with a score of 51.  Mt. Lebanon was the top finisher amongst WPIAL teams by claiming third place with a score of 101.  For the NA Girls, sophomore Madeleine Davison earned a 21st place finish with a time of 19:34.  Senior Katie Guarnaccia was 43rd with a time of 20:23.  Senior Caroline Cwalina took 63rd with a time of 20:50.
The PIAA Championships closes out another terrific season for Coach John Neff and the Tigers Cross Country Team. Additional times for the state championships are listed below.
| MEET SUMMARY - BOYS | | |
| --- | --- | --- |
| PLACE | TEAM | SCORE |
| 1 | West Chester Henderson | 60 |
| 2 | NORTH ALLEGHENY | 97 |
| 3 | Cardinal O'Hara | 101 |
| 4 | State College | 170 |
| 5 | Council Rock North | 172 |
| MEET SUMMARY - GIRLS | | |
| --- | --- | --- |
| PLACE | TEAM | SCORE |
| 1 | Unionville | 51 |
| 2 | Pennsbury | 57 |
| 3 | Mt. Lebanon | 101 |
| 4 | Seneca Valley | 152 |
| 5 | Central Bucks East | 156 |
| 9 | NORTH ALLEGHENY | 266 |
| INDIVIDUAL RESULTS | | |
| --- | --- | --- |
| NA BOYS | | |
| 14 | Cordon Louco | 16:35 |
| 15 | Matt McGoey | 16:35 |
| 19 | Hunter Wharrey | 16:49 |
| 22 | Seamus Love | 16:55 |
| 27 | Scott Seel | 16:57 |
| 37 | Michael Becich | 17:12 |
| 44 | Nicholas McClure | 17:19 |
| | | |
| NA GIRLS | | |
| 21 | Madeleine Davison | 19:34 |
| 43 | Katie Guarnaccia | 20:23 |
| 63 | Caroline Cwalina | 20:50 |
| 68 | Caroline Bojarski | 20:55 |
| 71 | Erin Keelan | 21:03 |
| 75 | Madissen Steiner | 21:11 |
| 120 | Caitlyn Carmody | 23:02 |