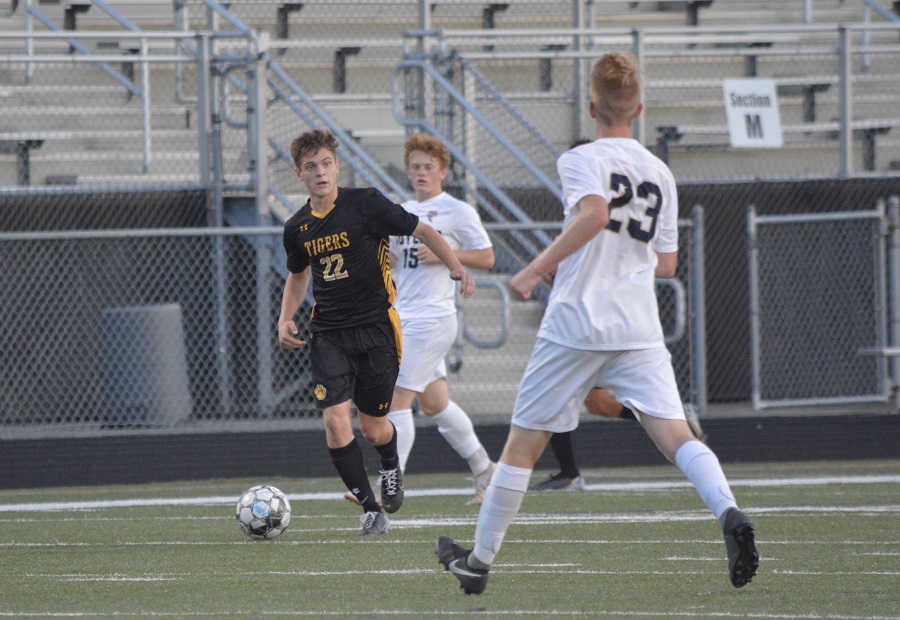 Butler Edges NA, 3-2
North Allegheny hosted section rival Butler at Newman Stadium on Thursday night.  After going up 2-1 in the second half the Tigers surrender two late goals, losing the match 3-2. The Tigers played a man down for the final 17 minutes.
The first 10 minutes of the match had equal possession time between the two teams with no quality scoring opportunities coming from either side. With 26:33 remaining in the half junior forward Philip Iozzi had received a pass in tight but pushed close-in shot just slightly wide left of the goal.  Two consecutive beautiful saves by senior goalkeeper Jonathan Partridge at 19:20 remaining kept Butler off the scoreboard.  North Allegheny got the first tally for a 1-0 lead when senior midfielder Matt Van Kirk created a turnover in the Butler end. Van Kirk quickly found senior forward Will Cinker, who beat the goalie and the last defender for a tap in goal with 9:39 left in the half.  The lead was short-lived however as NA surrendered a goal driven by foul outside the penalty area from the left, tying the game at one apiece where it stayed for the remainder of the half.
Roughly midway through the second half, Van Kirk, a steady catalyst of offensive opportunities for the Tigers in this young season, generated another great scoring opportunity for another teammate.  This time he switched the play when the Butler defense was overloaded to the left and found senior forward/defender Sam Passodelis wide open on the right, who struck a strong shot, low and left past the Butler goalie, putting NA up 2-1.  With 16:40 left in the game, the Tigers found themselves needing to play the balance of the match down one player, when sophomore forward Evan Anderson was issued a yellow and then a red card on a foul at midfield.  The field then tilted slightly toward the Tiger end for the balance of the match.  Goals by senior midfielder Lucas Shook and then junior forward Evan Fetter put the Golden Tornado up 3-2, where the score remained.
The Tigers resume play on Saturday during SoccerFest with another section match against Fox Chapel.  The junior varsity starting at 11:00 AM and varsity at 12:30.