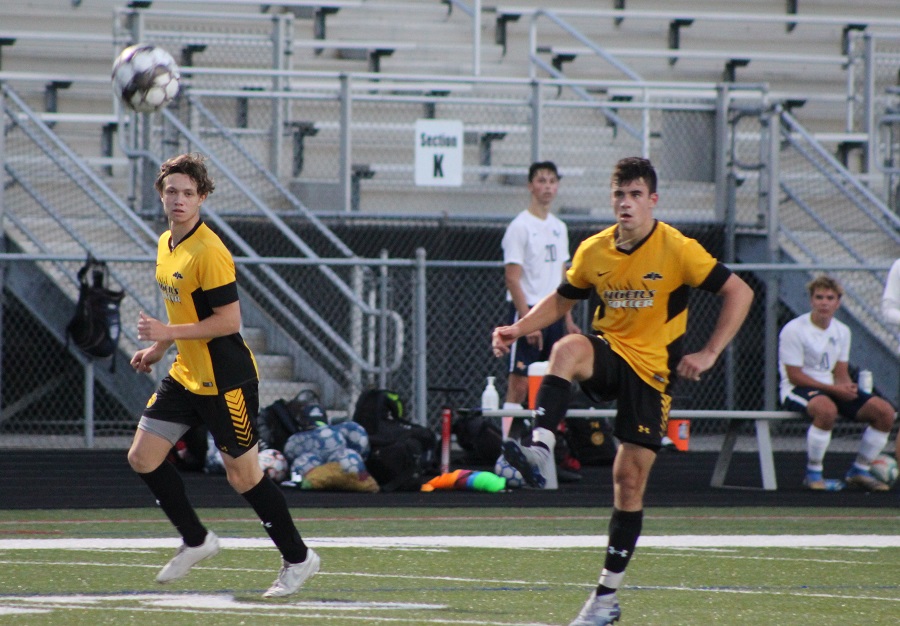 Butler Holds Off NA For Narrow 1-0 Win
By Boys Soccer Contributor
The North Allegheny boys' soccer team traveled to Butler on Wednesday for their first section game of the 2020 campaign and dropped a 1-0 decision to the Golden Tornado.
The game started out with both sides playing a cautious brand of soccer.  Neither side had the better of the possession in the early going, but Butler had a nice opportunity on a throw-in at the seven-minute mark.  The throw was into the box and bounced around off of a few players but the NA defense was able to eventually clear the ball and keep the game scoreless.  Twenty-five minutes in, Butler had a free kick from the right side of the field that went into the box but it was shot over the crossbar to keep the game scoreless.  With five minutes left in the half, there was a foul called on NA in the penalty box and Butler was awarded a penalty shot.  Landon Mohney took the shot for Butler and buried it into the corner of the net for a 1-0 Butler lead.  Soon after, NA was called for a hand ball five yards out of the box.  The Butler striker put the ball on net but a great save by Mikkel Hindsbo kept the game at 1-0.
The second half started with Butler continuing to apply pressure on NA.  The NA defense was up to the challenge with Max Kress stopping several runs by the Butler striker.  NA started to get some momentum eight minutes in when Evan Anderson took a feed and got a header on net but it was saved by the Butler Keeper.   Soon after, Anderson was fouled just outside of box.  He took the free kick and put the shot to the far post but it was saved.  The resulting corner kick produced NA's best chance of the game with William Stasko getting a point-blank shot on goal, but a great save kept Butler in the lead.  Later, Stasko crossed to Anderson, who shot it just wide to left of the Butler goal.  With seven minutes left, a mistake by the Butler defense left Evan Cole alone in front of the net with the Butler goalie, but again a point-blank save was made by the Butler goalie.  The final opportunity of the night for NA came with 1:30 left.  A foul gave NA a free kick from 25 yards out.  NA took the free kick and created a great chance but couldn't quite get it in the Butler goal.
It was a very hard fought and well played game from both teams.  North Allegheny falls to 1-1 overall and 0-1 in section action. The Tigers play again on Saturday night against Shaler.