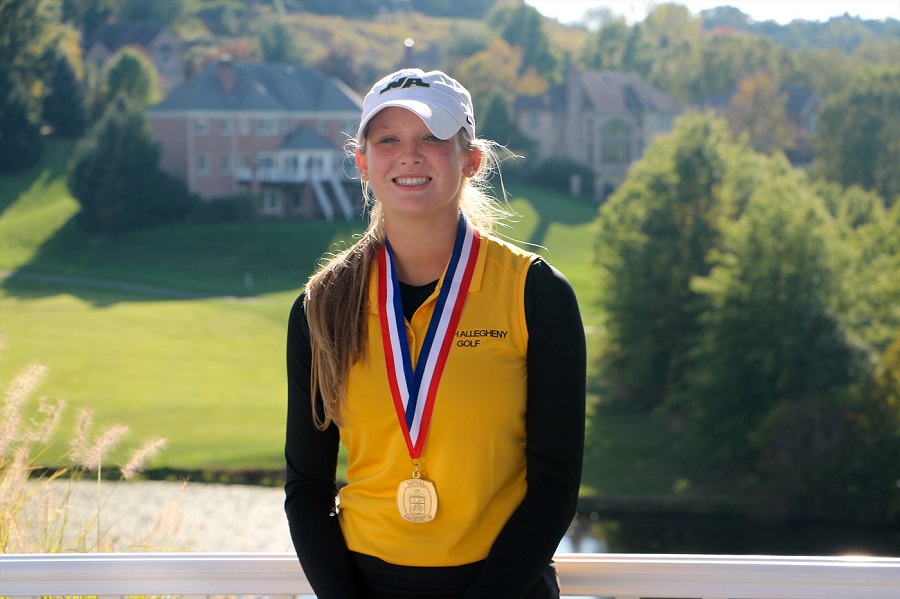 Caroline Wrigley Wins WPIAL Individual Championship
North Allegheny sophomore Caroline Wrigley won the WPIAL Individual championship on Wednesday afternoon, placing first at Treesdale Country Club with a score of 75 at the par-72 course. The course played long and difficult but Wrigley showed the same consistent excellence she has all season long and kept mistakes to minimum. Wrigley finished strong with a 37 on the back nine to capture WPIAL gold. The MSA Sports Network spoke with Wrigley following her superb performance.
Wrigley's longtime playing friend and teammate, Christina Lewis, placed seventh and joins Wrigley in qualifying for the PIAA state regionals at Tom's Run Chestnut Ridge course on October 17. Freshman Esha Vaidya and senior Jessica Hood also participated in the WPIAL finals but did not meet the qualifying score of 84. Vaidya totaled a 101 and Hood scored a 109. For a look at the results from the entire field at the WPIAL Individual finals, click here.
The Lady Tigers will compete next in the WPIAL team semifinals and the following golfers will represent NA at the event: Caroline Wrigley, Christina Lewis, Esha Vaidya, Jordan Farrell and Jessica Hood. North Allegheny is hoping to defend its WPIAL and PIAA titles from last year.