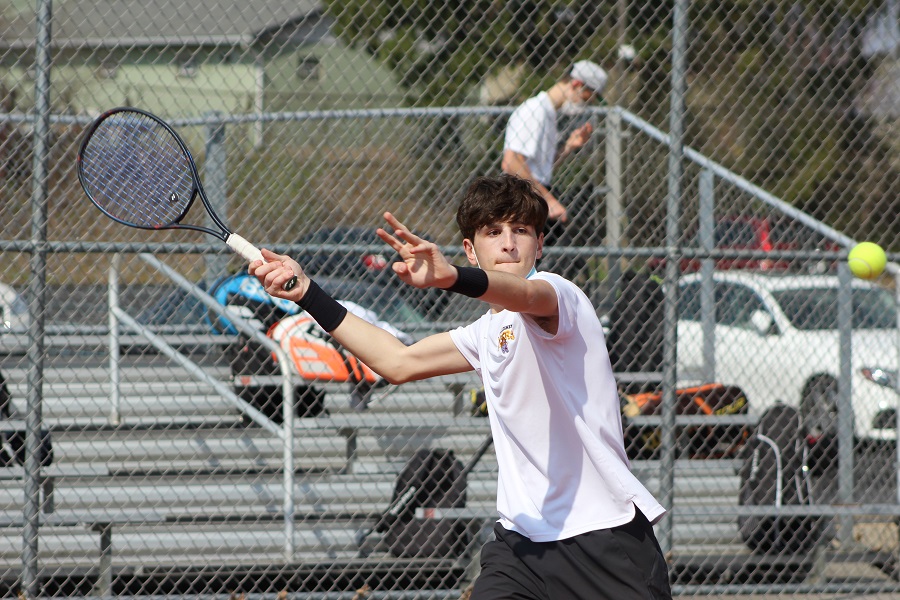 Chase Davidson Reaches Section 2 Singles Finals
Day one of the Section 2 Singles Tennis Tournament was held at the NASH courts Wednesday afternoon, and it proved to be a successful venture for the Tigers.  Junior Shomik Telang drew the overall #5 seed in the draw and faced off against Pine-Richland's Colby Ohlund (#12) in the first round.  Telang controlled the match from the start, cruising to a 10-0 victory.  He faced the 4th seeded Josh Kim (North Hills) in the quarterfinal round.  After a slow start due to serving issues, Telang found himself down 3-6 in the 10 game pro set.  Fighting valiantly he made it back to an 8-9 score but could not break Kim at the end and fell 10-8.
Senior Chase Davidson, North Allegheny's top singles player, entered the competition as the number three seed.  He defeated Drew Dudeck (14th seed) of West Allegheny in the first round, 10-0.  The quarters saw Davidson matched up against Moon's Rohan Maheshwari, the 11th seed, and the results were similar, a 10-2 win.  Now into the semi-finals, Davidson faced Brandon McEwen of North Hills, the overall 10th seed. McEwen upset the #2 seed from Sewickley Academy to reach the semis.  Davidson used a laser sharp serve and well-placed angle shots to beat McEwen in a straight set contest, 6-0, 6-2, to reach the championship round of Section 2 competition.
With the top four finishers guaranteed a berth, Davidson has already punched his ticket to the WPIAL Singles Tournament next week.  In the meantime, his championship match against the top-seeded Anthony Lounder of Moon will start at noon Thursday on the NASH courts.