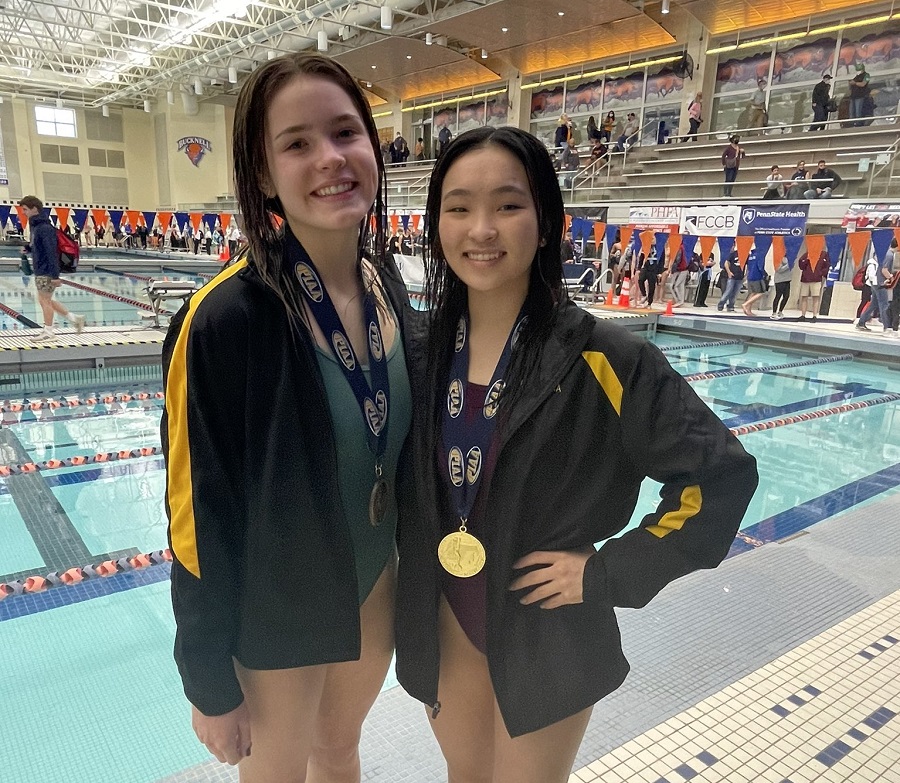 Christina Shi Repeats as PIAA Diving Champ, Lady Tigers Finish 3rd
The North Allegheny girls' swimming and diving team earned a third-place finish on Thursday at the PIAA Class AAA championship. The Lady Tigers totaled 148 team points at the two-day event, finishing in third place or better for the third consecutive season. Hatboro-Horsham High School won the state championship with a team score of 227. On the boys' side, North Allegheny finished in 19th place out of 55 teams with a team score of 33. Seneca Valley won the boys' crown with a score of 188.
The Lady Tigers got off to a great start in day two of the championship event with a gold medal performance from junior Christina Shi. Her score of 428.45 was good for her second consecutive PIAA individual championship. Shi also earned a fifth-place medal as a freshman in 2020. Freshman Lola Malarky claimed 8th place with a score of 373.15. For a look at all diving scores from the PIAA Class AAA championships, click here.
Junior Lexi Sundgren continued her excellent season with a silver medal performance in the 500 Free and set a new school record with a time of 4:51.80. In similar fashion, sophomore Natalie Sens also placed second in the 100 Breaststroke, clocking in at 1:03.16. The quartet of Sundgren, junior Delaney Kennedy, sophomore Greta Mott and senior Isabella Dietz added to NA's team score with a 10th place showing in the 400 Free Relay. For a look at day two scores at the PIAA Class AAA girls' championships, click here.
For the NA Boys, the top performance in day two was provided by sophomore William Gao with a 12th-place finish in the 100 Backstroke with a time of 51.79. For a look at day two scores at the PIAA Class AAA boys' championships, click here.
Congratulations to the entire North Allegheny swimming and diving team and coaching staff for another terrific season during the 2021-2022 campaign.