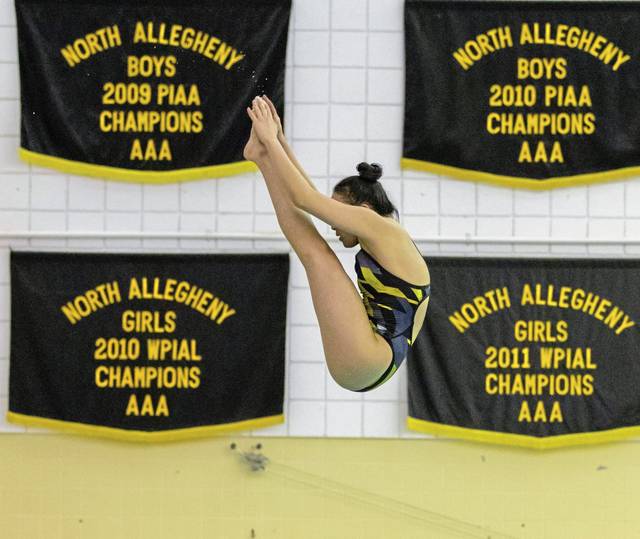 Christina Shi, Will Schenk Win WPIAL Class AAA Diving Titles
The North Allegheny Tigers crowned a three-peat champion and orchestrated the first 3A boys' and girls' sweep in 10 years at the Class 3A Diving Championships on Saturday at North Allegheny High School. Juniors Christina Shi and Will Schenk won Class 3A titles in the girls' and boys' diving championships, respectively. Freshman Lola Malarky also qualified for states with a fourth-place showing.
3A GIRLS'
North Allegheny junior Christina Shi became the sixth WPIAL student-athlete to win three 1-meter dive championships at the 3A classification, posting a score of 481.45 to begin Saturday's portion of the WPIAL 3A Diving Championships.
' & –

– Christina Shi (@NATigerAthletic)
– Hannah Polosky (@GLCATATHLETICS)
– Ashley Felitsky (@SV_Sports)#WPIAL | pic.twitter.com/Bee5xkIeDH

— WPIAL (@wpial7) February 26, 2022
Shi joins Chartiers Valley's Maria Lohman (2012-15), Franklin Regional's Samantha Pickens (2008-10), Montour's Cassidy Krug (2001-03), Penn Hills' Jen O'Brien (1997-00), and North Allegheny's Jamie Tomazich (1994-96) as the only student-athletes to win three WPIAL diving titles at 3A.
The top five finishers qualify for the PIAA Championships, which will be held from March 16-19 at Kinney Natatorium on the campus of Bucknell University. Along with Shi, moving on to states was freshman Lola Malarky (379.05) with a fourth-place finish.
A total of 23 divers competed in the 3A girls' final, including junior Maddie Whitewolf who placed 11th with a score of 335.35. For a look at all the scores in Class 3A girls, click here.
3A BOYS'
In Class AAA boys competition, North Allegheny junior Will Schenk made it a Tiger sweep on Saturday in the WPIAL 3A Diving Championships, capturing the gold medal on his final dive to post a total score of 428.60.
' & –

– Will Schenk (@NATigerAthletic)
– Isaiah Clerkley (@SV_Sports)
– Jeremiah Laslavic (Seneca Valley)#WPIAL | pic.twitter.com/rWPCwvs6Zn

— WPIAL (@wpial7) February 26, 2022
Schenk's win marks the first time since 2012 that the same school produced both the 3A boys' and girls' champions in the 1-meter dive. Pine-Richland was the last school to pull off the sweep, doing so with Dominic Giordano and Lauren Lamendola.
A total of 17 divers competed in the 3A boys' final,including junior Alex Palermo who placed ninth with a score of 287.65. For a look at all scores from the Class 3A boys, click here.
(Information courtesy of the WPIAL press release.)