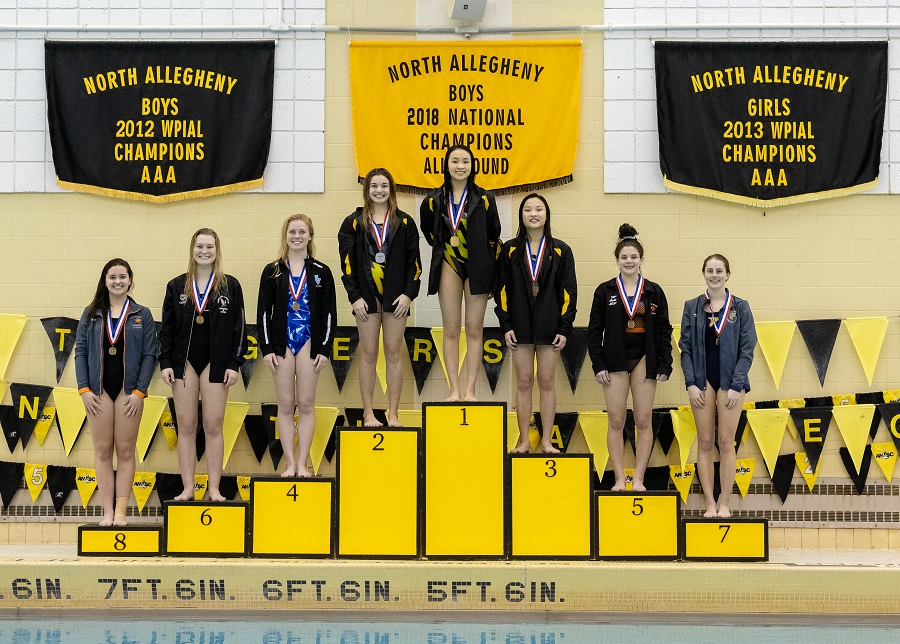 Christina Shi Wins Gold at WPIAL Diving Championships
The NA Diving Team stepped up to the plate and delivered bigtime at the WPIAL Diving Championships.  Three of North Allegheny's lady divers took the top three spots and Will Schenk took bronze for the boys with a score of 418.30. Christina Shi not only won first place gold, but also broke the varsity record; she scored 531.30.  Maya Ennis took silver (473.65) and Zoe Ky got bronze (457.85).  All four qualify for the state championships at Bucknell University.  Bailey Restelli also contributed and took 30th place for the girls (123.60), and Lucas Rodgers took 11th place for the boys (344.60).
Overall, North Allegheny made history with its diving performance on Saturday. Never before has a school taken first, second and third place at a WPIAL championship.
For the Class AAA Boys Diving results, click here.
For the Class AAA Girls Diving results, click here.
Up next will be the WPIAL Swimming Championships.  This will be a two-day event, and will begin at 8:30 a.m. on Thursday, February 27, at the University of Pittsburgh Trees Pool.