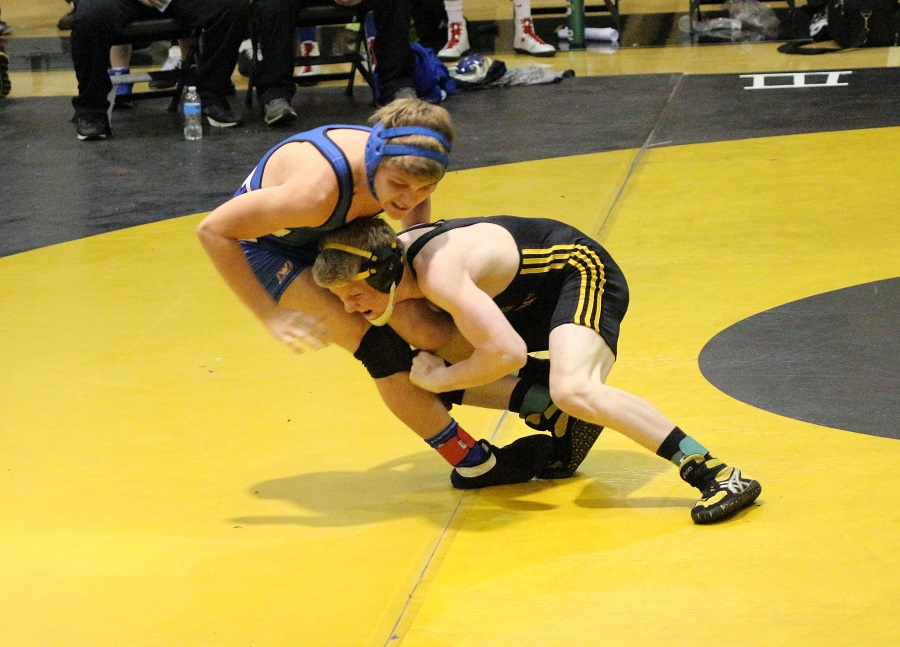 Cumberland Valley Trips Up Tigers In PIAA Tournament Opener
North Allegheny jumped to a 17-3 lead and held a 20-12 advantage with five bouts remaining, however, District 3 champion Cumberland Valley won those final five bouts for a 30-20 triumph  in the opening round of the PIAA Team Tournament in Hershey.
The Tigers wrestled big in the Giant Center and wasted little time in building a healthy lead.  Jacob Woodley started the night with a 12-8 decision over Trent Cook at 170 pounds and Clay Byerly followed with a 5-2 decision over Dayne Ross at 182 pounds.  With a 6-0 team lead, the Tigers ballooned the advantage to 11-0 on a tech fall win by Zach Smith at 195 pounds over Brad Drabenstadt.
Cumberland Valley won its first bout on a 5-1 decision by Francis Duggan at 220 pounds, but North Allegheny responded with a fall by Jeff Clemens at 285 pounds to improve the lead to 17-3, Tigers.  The Eagles continued to chip away at the Tigers lead and shrunk the score to 17-12 by taking the next three bouts.
At 126 pounds, Luke Landefeld delivered a 5-1 decision over Jake Barrick and it appeared the Tigers were in position to advance with a 20-12 lead and only five bouts remaining.  Unfortunately, the Eagles soared ahead with five straight wins, including a fall by Patrick Duggan at 152 pounds that clinched a spot for Cumberland Valley in the PIAA quarterfinals.
Despite the loss, North Allegheny is still alive in the double elimination tournament.  The Tigers will face Mifflin County in the consolation bracket at 8:00 Friday morning. For the PIAA bracket, click here.
Wrestling Match Summary: NA vs. Cumberland Valley
PIAA Class AAA 1st Round
| Weight | Wrestlers | Score |
| --- | --- | --- |
| 170 | Jacob Woodley (NA) dec. Trent Cook (CV) | 12-8 |
| 182 | Clay Byerly (NA) dec. Dayne Ross (CV) | 5-2 |
| 195 | Zach Smith (NA) tech fall Brad Drabenstadt (CV) | 18-0 |
| 220 | Francis Duggan (CV) dec. Layne Skundrich (NA) | 5-1 |
| 285 | Jeff Clemens (NA) pinned Jackson Stanford (CV) | 3:41 |
| 106 | William Kaldes (CV) dec. Gabe Falo (NA) | 6-3 |
| 113 | Russell Zimmerman (CV) dec. Jacob Downing (NA) | 4-1 |
| 120 | Wyatt Long (CV) dec. Zack Stedeford (NA) | 7-2 |
| 126 | Luke Landefeld (NA) dec. Jake Barrick (CV) | 5-1 |
| 132 | Cal Reichart (CV) dec. Jake HInkson (NA) | 4-1 |
| 138 | Felix Belga (CV) dec. Will Baierl (NA) | 9-2 |
| 145 | Quinten Milliken (CV) dec. A.J. Boeh (NA) | 8-6 |
| 152 | Patrick Duggan (CV) pinned Sean Hoover (NA) | 2:13 |
| 160 | Jacob Shalles (CV) dec. Jacob Fritch (NA) | 5-2 |