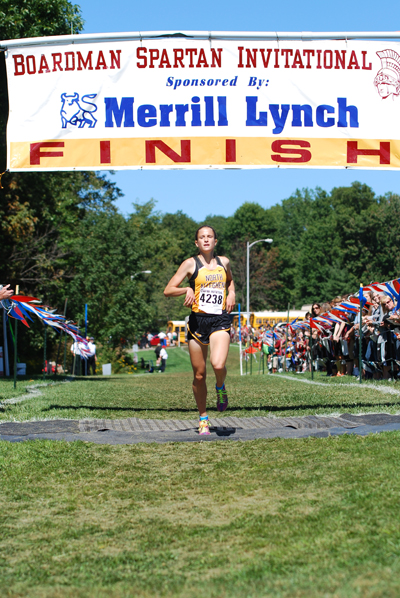 Davison Lifts Lady Tigers Cross Country To Gold At Boardman Spartan Invite
Behind a fantastic finish by sophomore Madeleine Davison, the North Allegheny Girls Cross Country Team won the Division I title at this weekend's Boardman Spartan Invitational in Ohio. Davison propelled the Lady Tigers to a team score of 115 points with a time of 18:22.6.  Davison's time was the eighth best on the invitational's all-time top 10 list. Nordonia finished in second place with a score of 146.
Down the stretch, Davison pulled away from Gina Alm of Hampton and Alexis Szivan of Amherst (OH) Steele shortly after the one mile mark. Seniors Katie Guarnaccia, Caroline Bojarski, and Caroline Cwalina, and junior Erin Keelan, all helped North Allegheny best a 34-team field and lift the Lady Tigers to their first gold medal at the invitational since 2010.
The North Allegheny Boys tied for third place at the invitational with a score of 150, despite resting four of their top seven scorers from last week's showing at the Red, White and Blue Classic.  With Cordon Louco, Hunter Wharrey, Nicholas McClure, and Peter Savchik resting as healthy scratches, junior Matt McGoey paced the Tigers with a time of 16:00.2 and an eighth place finish. Seamus Love took 15th with a time of 16:25.6 and Scott Seel claimed 16th overall with a time of 16:27.6. The Tigers had won the last three titles at the Boardman Spartan Invitational.
North Allegheny faces section competition on Tuesday with a tri-meet against Mars and Hampton. Start time is slated for 3:30 pm.
(Photo courtesy of PennTrack XC and Phil Grove.)