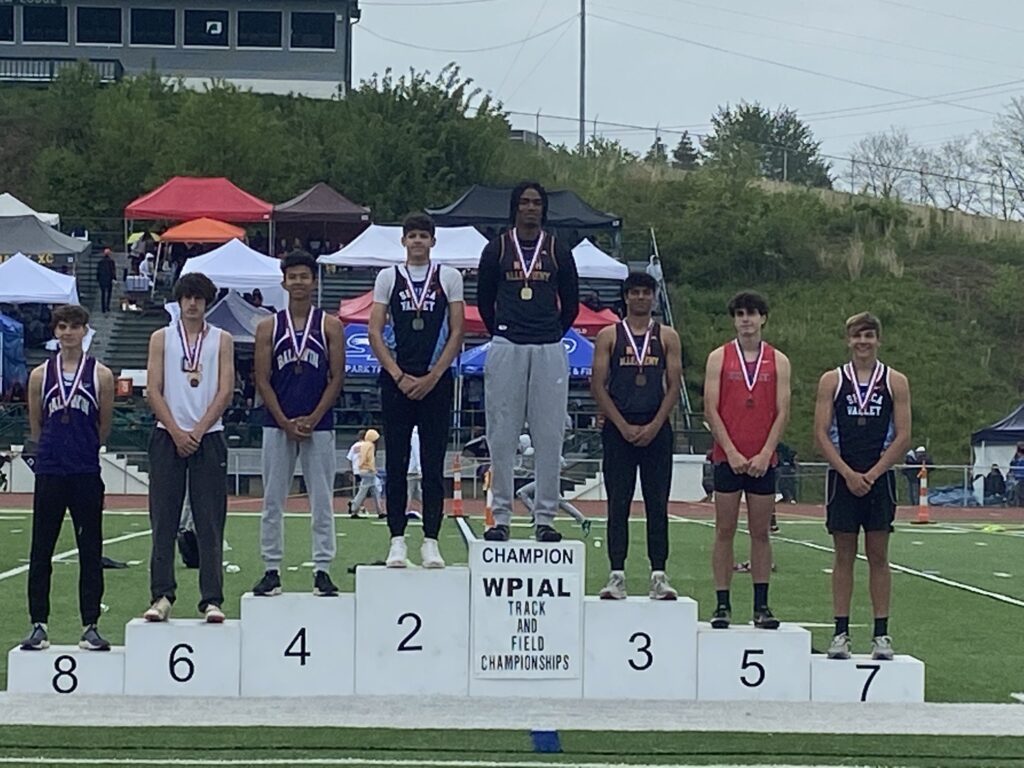 Dwayne Taylor Sets School Record In Triple Jump At WPIAL Individual Championships
Senior Dwayne Taylor set a new school record in the Triple Jump and won WPIAL gold for the second consecutive year on Wednesday at the WPIAL Class AAA Individual Championships at Slippery Rock University. Taylor's jump of 46-10.00 broke previous mark of 46-9.00, set by Fritz Isaac at the PIAA championships in 2014. Taylor's effort was one of four gold medal performances by the Tigers on the day.
The North Allegheny girls' combination of Mia Tuman, Lola Akindele, Isabella Costa and Kena Shannon took first place in the 4×400 Relay. In the 4×800 Relay, the quartet of Rachel Hockenberry, Maura Mlecko, Robin Kucler and Wren Kucler earned WPIAL gold. Shannon also picked an additional WPIAL gold medal in the 300m Hurdles.
With Taylor's performance in the Triple Jump leading the way, the NA Boys had a bevy of medalists on the day, including junior Rohan Gupta who took third place in the same event. In the High Jump, junior Owen Curran took third place and senior Kolin Dinkins followed closely behind in fourth place. Dinkins also placed fifth in the Long Jump and Curran took seventh place in the High Jump. In the Pole Vault, senior Christian Duckworth earned WPIAL silver in the Pole Vault and junior Ryan Handron took fifth place in the same event. Senior Eric Ghilani took the podium with an eighth-place finish in the 300m Hurdles. An impressive showing in the 3200m Run was delivered by senior Graham Wolfe, freshman Jack Bertram and senior Ryan Podnar with a 5-6-7 showing. The collaboration of senior Zane Kinne, junior Jackson Pajak, junior Gregory Kossuth and senior Danny Robles won a WPIAL bronze in the 4×800 Relay.
For the Lady Tigers, sisters Wren and Robin Kucler took second and third place in the 3200m Run, while also placing third and sixth in the 1600m Run, respectively. Senior Evelyn Wiethorn earned a fourth-place medal in the Javelin Throw and also took seventh place in the High Jump. Senior Jackie DiGiacomo won a WPIAL bronze in the Discus Throw, while junior Rachael Johns took fifth place in the High Hurdles. Junior Ava Como took the podium for a sixth-place effort in the Pole Vault. Seventh-place showings were turned in by Jamie Frisco in the Shot Put and Costa in the Long Jump. Additionally, the quartet of Shannon, Costa, Akindele and junior Arianna Tegtmeier took fourth place in the 4×100.
For full results from the WPIAL Individual Championships, click here.
The PIAA championships are set for May 27-28.