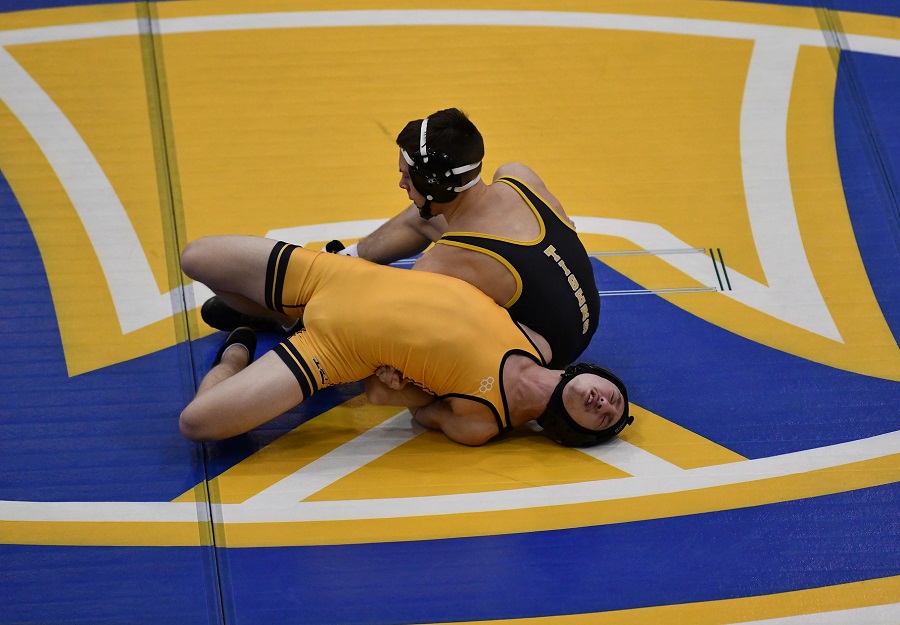 Dylan Coy Takes 5th Place at PIAA Western Super Regional
North Allegheny had three representatives in the PIAA Class AAA Western Super Regional on Saturday and junior Dylan Coy came away with a fifth-place showing in the 120-pound weight class.
Fresh off of winning his first WPIAL individual title last week, Coy opened the Super Regional with a 6-3 decision over Josh Hillard of Manheim Township in the tournament quarterfinals. Despite losing in his next two bouts, Coy rebounded in the fifth-place consolation bout with a rematch with Hillard and earned a 3-0 decision. While Coy did finish in the fifth place, did not qualify for the PIAA championships as only the top four wrestlers in each weight class advanced.
Also competing in the PIAA Western Super Regional were Nick Gorman (120) and Collin McCorkle (160). All North Allegheny results are listed below. Congratulations to the entire NA wrestling team and coaching staff for another outstanding season.
PIAA Class AAA Western Super Regional
Saturday, March 6 at Altoona High School
| Weight | Wrestlers | Score |
| --- | --- | --- |
| 120 - Quarterfinals | Dylan Coy (NA) dec. Josh Hillard (Manheim Township) | 6-3 |
| Semifinals | Karl Shindledecker (Chambersburg) dec. Dylan Coy (NA) | 5-1 |
| Consolation Semifinals | Mason Leiphart (Dover) dec. Dylan Coy (NA) | 5-0 |
| 5th Place | Dylan Coy (NA) dec. Josh Hillard (Manheim Township) | 3-0 |
| | | |
| 126 - Quarterfinals | Matt Repos (Central Dauphin) dec. Nick Gorman (NA) | 4-2 |
| 1st Consolation | Ethan Berginc (Hempfield Area) dec. Nick Gorman (NA) | 5-1 |
| | | |
| 160 - Quarterfinals | Ethan Richner (Bellefonte) dec. Collin McCorkle (NA) | 3-1 |
| 1st Consolation | Sean Smith (Carlisle) dec. Collin McCorkle (NA) | 3-2 |
| | | |