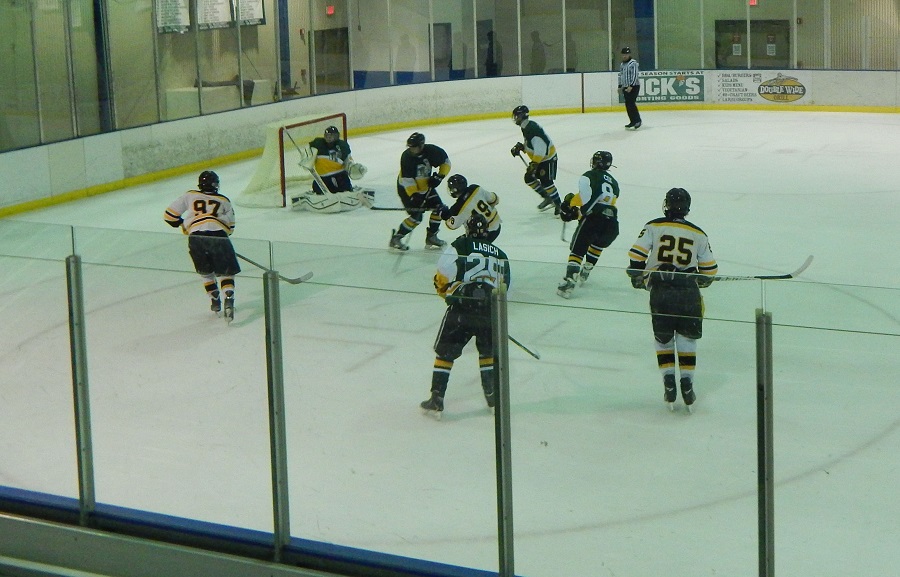 Erik Chidester Nets OT Goal, Tigers Survive Warriors, 4-3
Sophomore Erik Chidester scored a pair of goals, including the game winner in overtime, to lift the North Allegheny Tigers over the Penn-Trafford Warriors on Monday night, 4-3, at the BladeRunners complex in Warrendale.  Penn-Trafford rallied from a 3-0 deficit to force overtime, but Chidester's goal, on a feed from Dawson Richard, gave the Tigers the win at the 2:23 mark of the extra session.
Overtime seemed like the furthest thing from reality in the first period as the Tigers leaped to a 3-0 lead on goals by Joseph Zappia, Chidester, and Paul Gonchar. Penn-Trafford chipped away with second period goals by Jordan Eisenstat and Cam Williams to cut the score to 3-2, Tigers.
The Warriors furious rally seemed to fizzle in the third period when forward Marc Anthony was charged with a major penalty, game misconduct with 4:25 remaining in regulation. However, Penn-Trafford's Nathan Mickey scored the game tying goal with just 14 seconds remaining to force overtime.
That set the stage for Chidester's heroics in overtime to vault the Tigers to victory. The NA win was a measure of revenge of sorts, atoning for a 5-4 overtime loss to Penn-Trafford in the quarterfinals of the PIHL playoffs last season.
North Allegheny improves to 2-0 on the young season, while Penn-Trafford falls to 0-2. The Tigers return to the ice on Tuesday, October 21 with a visit to the Iceoplex in Southpointe to take on the Canon-McMillan Big Macs.
Ice Hockey Summary vs. Penn-Trafford, 10-13-14
| GAME SUMMARY | | | | | |
| --- | --- | --- | --- | --- | --- |
| SCORE BY PERIODS | 1 | 2 | 3 | OT | FINAL |
| Penn-Trafford | 0 | 2 | 1 | 0 | 3 |
| North Allegheny | 3 | 0 | 0 | 1 | 4 |
Ice Hockey Individual Scoring vs. Penn-Trafford
| INDIVIDUAL STATS | | |
| --- | --- | --- |
| FIRST PERIOD | | |
| North Allegheny | Joseph Zappia III (Erik Chidester, Dawson Richard) | 0:25 |
| North Allegheny | Chidester (Matthew Heil) | 3:33 |
| North Allegheny | Paul Gonchar (Michael Kramer, Steven Dietz) | 15:25 |
| SECOND PERIOD | | |
| Penn-Trafford | Jordan Eisenstat | 3:42 |
| Penn-Trafford | Cam Williams (Eisenstat, Nathan Mickey) | 8:30 |
| THIRD PERIOD | | |
| Penn-Trafford | Mickey (Jacob Graffius) - SH | 16:46 |
| OVERTIME | | |
| North Allegheny | Chidester (Richard) | 2:23 |