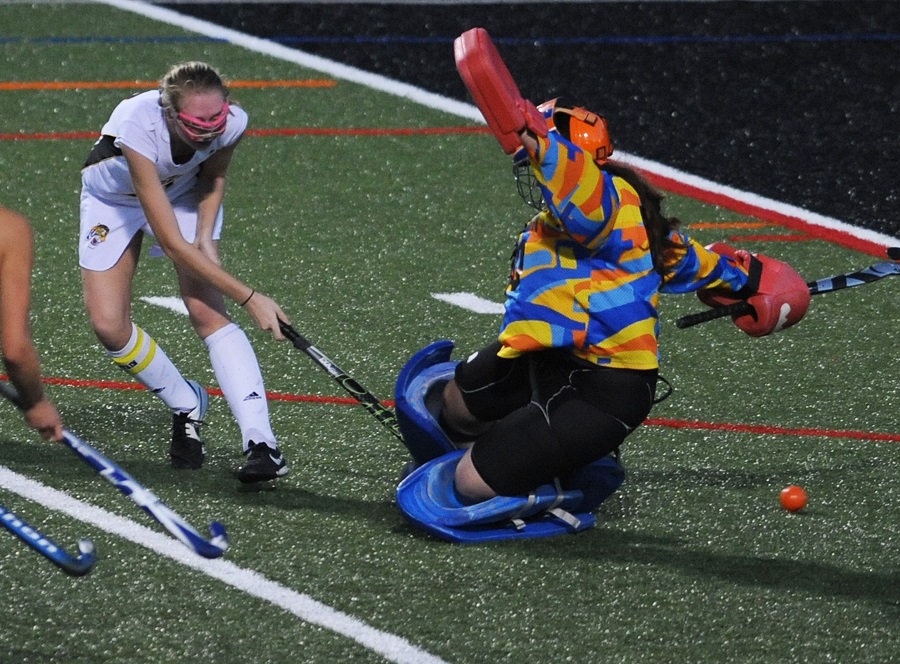 Erin Coran's Four Goals KO's Knights, 6-2
North Allegheny unleashed a barrage of second-half goals to sink the Norwin Knights on Thursday night at Newman Stadium, 6-2, in a Section 1-AAA contest. Senior forward Erin Coran, who missed some time last week due to illness, led the offensive explosion with a four-goal performance and was named the Wright Automotive Player of the Game.
The game had an inauspicious start for the Tigers as it was the Knights who charged out of the gates to an early lead. Less than three minutes into the game, Norwin's team speed produced a two-on-none breakaway that resulted in a Jessica Kolesar goal and a 1-0 lead. With 23:00 remaining in the first half, Norwin struck again thanks to a Harlee Rausch marker to increase the lead to 2-0.
Playing against a stingy Norwin defense, a comeback bid for NA wasn't going to come easy. The Knights had permitted one goal or less to all but one opponent all season prior to Thursday night. Pine-Richland scored three goals on October 3 in a 3-0 win over the Knights. The Tigers, however, were about to add their name to that short list.
Following Rausch's goal, NA head coach Madelyn Berkley called a timeout to regroup. The Tigers responded with a goal on a penalty corner opportunity with 20:14 remaining in the first half. Sophomore Angie Genter passed to senior Brooke Cameron in front of net for a goal, cutting the deficit to 2-1. The score remained 2-1 going into halftime.
In the second half, the Lady Tigers played with an intensity that sent the visiting Knights reeling. North Allegheny bombarded the Norwin circle and tied the game with 27:40 left in the second half on Coran's first goal of the evening, evening the score at 2-2. The Tigers scored two minutes later on a Genter marker to take a 3-2 advantage. Coran continued the assault on the Norwin net with three more goals by Coran to pull away for a 6-2 victory. The win was NA's 15th in a row against the Knights dating back to 2009.
For the game, North Allegheny converted on 3 of 9 penalty corner opportunities, unofficially. Norwin scored on 1 of 7 penalty corners. In net, goalies Katie Shideler and Rena Israel combined for the victory. On the offensive front, the Tigers were bolstered by the return of sophomore Lexie McClure from injury to aid in the highest scoring output on the season.
The win gives North Allegheny a 6-7-1 overall record and 6-1 mark in Section 1-AAA. For Norwin, the loss drops the Knights to 3-4 in section play and eliminates them from playoff contention.
Field Hockey Summary vs. Norwin, 10-6-16
| GAME SUMMARY | | | |
| --- | --- | --- | --- |
| SCORE BY HALVES | 1 | 2 | FINAL |
| Norwin | 2 | 0 | 2 |
| North Allegheny | 1 | 5 | 6 |
Field Hockey Individual Scoring vs. Norwin
| INDIVIDUAL STATS | | |
| --- | --- | --- |
| FIRST HALF | | |
| Norwin | Jessica Kolesar | 2:14 |
| Norwin | Harlee Rausch | 7:00 |
| North Allegheny | Brooke Cameron | 9:46 |
| SECOND HALF | | |
| North Allegheny | Erin Coran | 2:20 |
| North Allegheny | Angie Genter | 4:52 |
| North Allegheny | Coran | 10:40 |
| North Allegheny | Coran | 15:37 |
| North Allegheny | Coran | 22:15 |