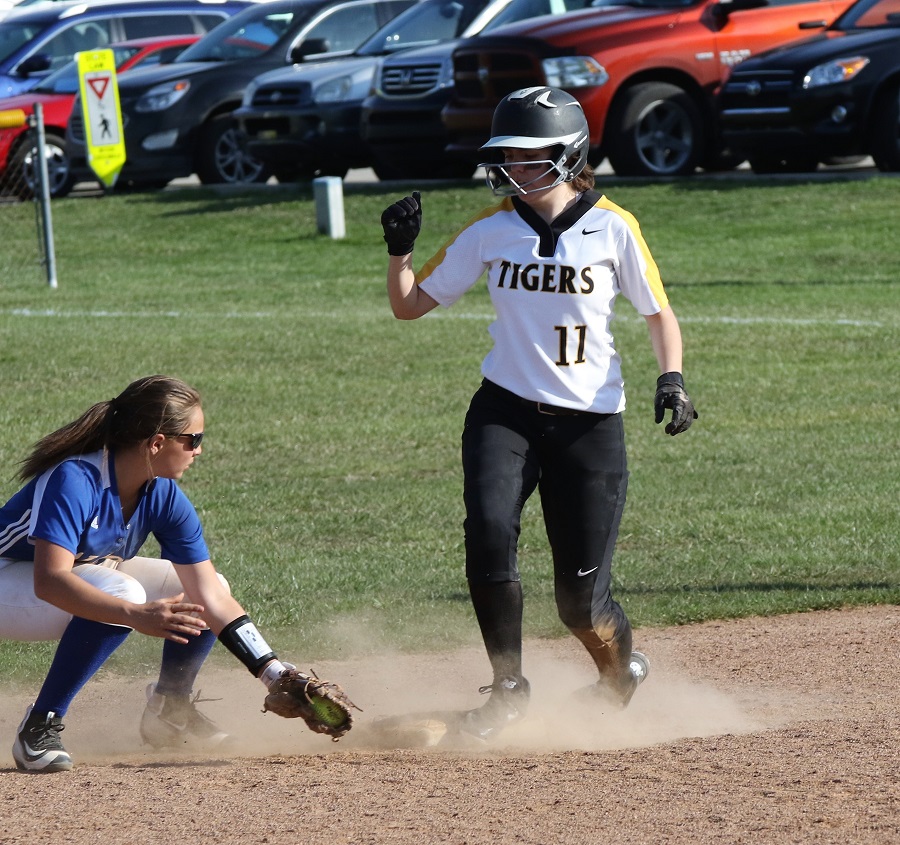 Falcons Outlast Tigers, 7-6
The North Allegheny Varsity Softball Team traveled to Fayette County to play a non-section game against the Connellsville Falcons on Friday afternoon and returned home after seeing there three-game win streak halted with a 7-6 loss to the Falcons in a back-and-forth game won in the bottom of the seventh inning.
The Tigers took a 1-0 lead in the third inning, but the Falcons came back to tie the game in the bottom of the fourth. Connellsville jumped into the lead with a three-run bottom of the fifth, but the Tigers fought back with a five-run top of the sixth to take a 6-4 advantage into the seventh. However, timely hitting by Connellsville and mental mistakes allowed the Falcons to tally three in the bottom of the seventh after having two outs and nobody on base.
The loss drops the Tigers' overall record to 4-3 while maintaining their perfect 3-0 record in Section 3-6A play.
For the Tigers, extra-base hits were struck by Anna Pilotta, Kristen Chomos, Chloe Szczepaniak, Lauren Haywood, and Dana Manz, each of whom doubled, but it was not enough to  overcome Connellsville.
Mia Burd earned the victory for the Falcons, while the Tigers' Brooke Serbin took her first loss of the season in a complete game effort.
NA jumps right back into action on Saturday with a scheduled two-game day, hosting South Park at 2:30 PM, followed by a section contest vs. the Shaler Area Titans at 4:00 PM.
Softball vs. Connellsville, 4-13-18
| Score by Innings | 1 | 2 | 3 | 4 | 5 | 6 | 7 | | R | H | E |
| --- | --- | --- | --- | --- | --- | --- | --- | --- | --- | --- | --- |
| North Allegheny | 0 | 0 | 1 | 0 | 0 | 5 | 0 | | 6 | 9 | 0 |
| Connellsville | 0 | 0 | 0 | 1 | 3 | 0 | 3 | | 7 | 10 | 1 |
WP - Mia Burd LP - Brooke Serbin