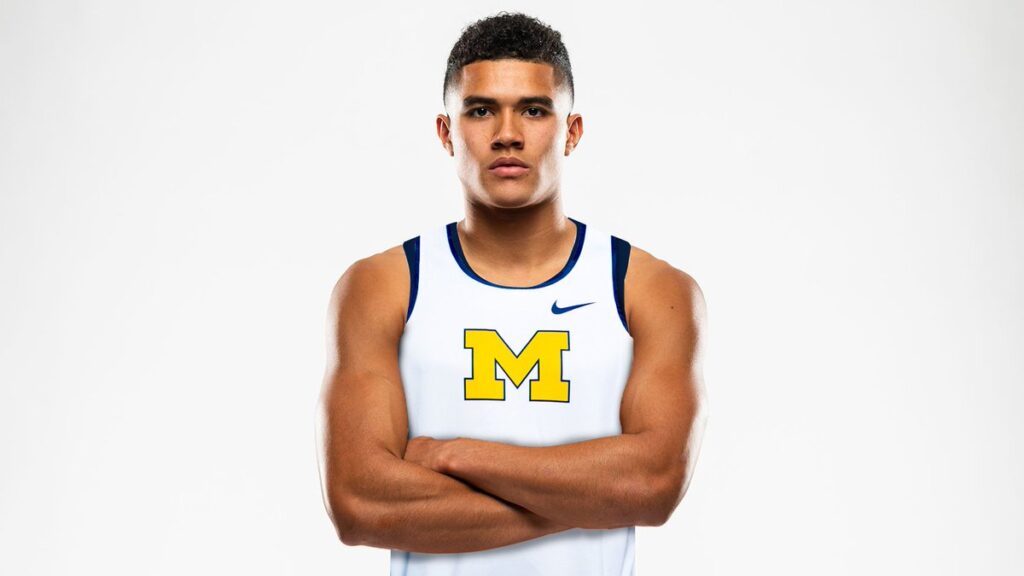 Former NA Track Standout, Ayden Owens, Sets School Record At Michigan
FAYETTEVILLE, Ark. — University of Michigan men's track and field history was written in real time throughout the second day of the NCAA Indoor Championships on Friday (March 12).
Heptathlete Ayden Owens, and former North Allegheny standout, rushed the school record in a third-place finish. Owens eclipsed Steven Bastien's four-year-old heptathlon standard by 152 points and tied for the No. 25 spot on the all-time collegiate list with a masterful 5,995-point effort over the course of seven events, good enough to net him six team points for the Wolverines.
Just as he did on day one, Owens set the pace for the entire field in the opening sprint event, this time clocking a season-best-tying 7.87 seconds in the 60-meter hurdles for the top time and a significant 1,015-point haul. Only one other athlete earned a higher single-event point total throughout the entire competition.
Additionally, when paired with his 7.84 from the 2019 NCAA Indoor Championships during his days at Southern California, Owens became just the third man in meet history to run faster than 7.90 in the heptathlon 60-meter hurdles in two different years.
Just surviving the 60-meter hurdles intact was an accomplishment. Two other men, including title contender Leo Neugebauer of Texas, did not finish the race and a third finished in 10 seconds to effectively end their hopes of a top finish.
The extremely technical penultimate pole vault competition similarly has a way of weeding out would-be contenders, but Owens, too, passed this test with flying colors. After entering at a bar well below his best to ensure he put points on the board, he worked his way up to a first-attempt make at a career-best-tying 4.56m (14-11.5) to net himself 778 points.
Fittingly, he closed out the effort with a fourth career-best performance. With only five laps standing between Owens and both national glory and school history, he slashed nearly seven seconds off his personal best to clock 2:40.07. He went out hard early and established himself in the top four.
By the time the bell rang for 200 meters to go, Owens had moved up to second and closed out with the fastest lap of anyone in the field at 30.20 seconds.
His overall seven-event performance to take third in the standings marked the best finish by a U-M competitor in the event, supplanting Bastien's eighth-place finishes from 2015 and 2016.
#NCAATF Championships | Heptathlon

Ayden Owens @Ayden_Owens OBLITERATES the school record with a 5,995-point score to finish THIRD overall!

Ayden is a First-Team All-American!#GoBlue pic.twitter.com/fkxZdoNmS0

— Michigan Track & Field / Cross Country (@UMichTrack) March 12, 2021
(Photo and press release courtesy of University of Michigan Athletics.)