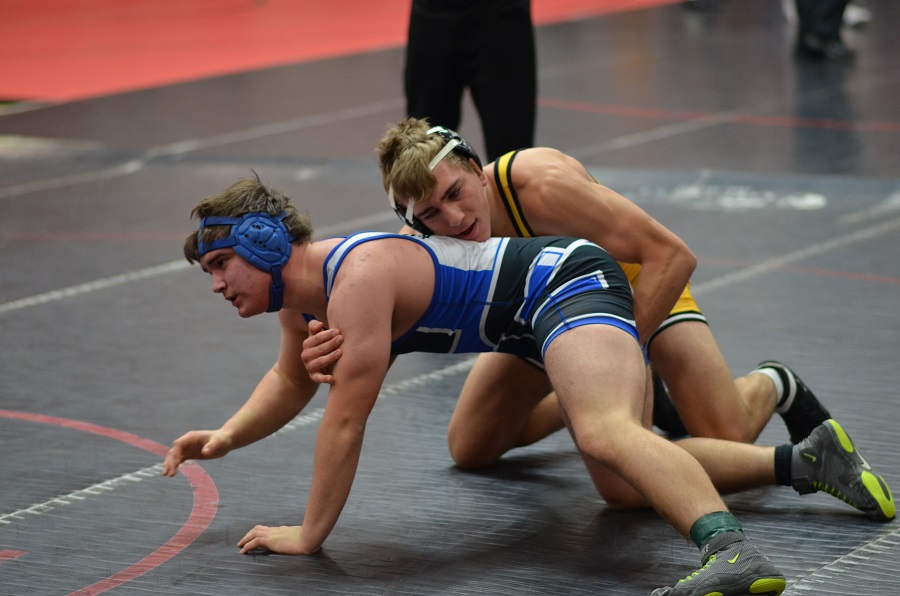 Four NA Grapplers Move On To Day Two Of PIAA Individual Wrestling Tournament
North Allegheny senior Ben Grafton has advanced to the quarterfinals at the PIAA Class AAA individual wrestling tournament. Grafton opened the tournament in the 285-pound bracket with a 3-2 decision over Karam Chakif of Dieruff to improve to 39-5 on the season. Grafton will take on Robbie Unrah of Exeter Township in the quarterfinals on Friday.
Along with Grafton, fellow Tigers Dylan Coy (120), Grant MacKay (152) and Nick Marcenelle (182) will also compete in Day Two of the tournament. Coy, MacKay and Marcenelle all began action with a win in the Round of 32 but fell in the next round, sending them to the consolation bracket.
Coy picked a 6-4 decision over Cadden Kucek of Wyoming Valley in the Round of 32 before dropping a 7-0 decision to Will Betancourt of Manheim Central.
MacKay earned a 9-3 decision over Liam O'Toole of Archbishop Ryan in his first bout but fell by pinfall to Ed Scott of DuBois in the next round.
Marcenelle opened with a 3-2 decision over Grant Starr of DuBois but lost by fall to Nick Baker of Penn Manor in his follow-up bout.
For a look at the Class AAA brackets, click here.
Action continues at the Giant Center in Hershey with the quarterfinals and second round consolations on Friday at 2:05 p.m.
PIAA Class AAA Wrestling Championships - Day One
Thursday, March 5 at Giant Center (Hershey, PA)
| Weight | Wrestlers | Score |
| --- | --- | --- |
| 120 - Round of 32 | Dylan Coy (NA) dec. Cadden Kucek (Wyoming Valley West ) | 6-4 |
| Round of 16 | Will Betancourt (Manheim Central) dec. Dylan Coy (NA) | 7-0 |
| | | |
| 152 - Round of 32 | Grant MacKay (NA) dec. Liam O'Toole (Archbishop Ryan) | 9-3 |
| Round of 16 | Ed Scott (DuBois) pinned Grant MacKay (NA) | 0:57 |
| | | |
| 182 - Round of 32 | Nick Marcenelle (NA) dec. Grant Starr (DuBois) | 3-2 |
| Round of 16 | Nick Baker (Penn Manor) pinned Nick Marcenelle (NA) | 1:01 |
| | | |
| 285 - Round of 32 | Ben Grafton (NA) bye | |
| Round of 16 | Ben Grafton (NA) dec. Karam Chakif (Dieruff) | 3-2 |
| | | |
| | | |
| | | |