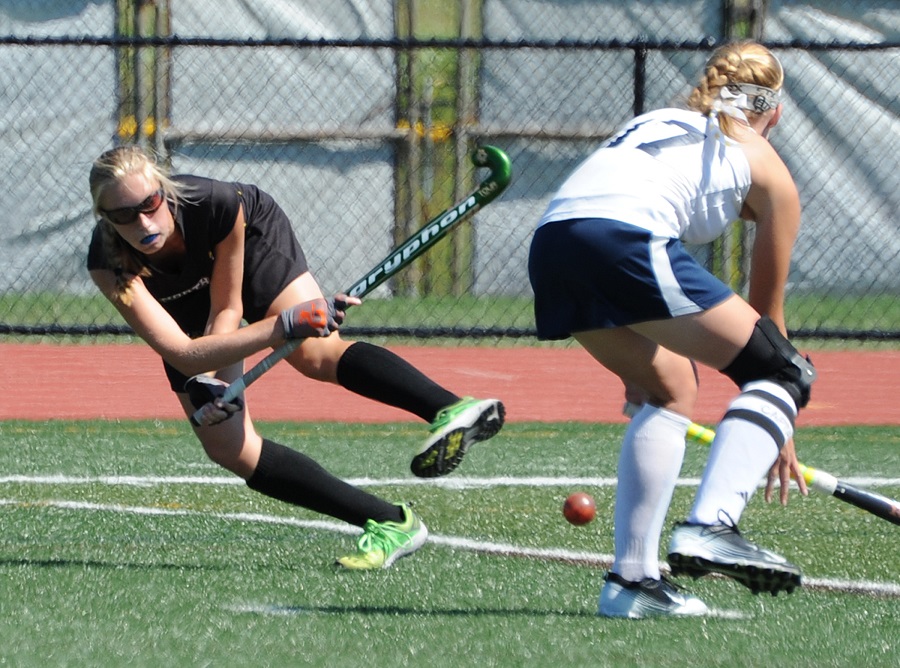 Fox Chapel Upends NA In WPIAL Semifinals
The reigning WPIAL champion Fox Chapel Foxes earned a second straight trip to the title game with a 3-0 home victory over the North Allegheny Tigers on Wednesday night in the WPIAL semifinals. The Tigers were playing without leading scorer Erin Coran who missed the game due to injury.
The game opened with North Allegheny gaining offensive control in the first two minutes. However, that NA offense was short-lived as Fox Chapel tilted the field in its direction for the remainder of the half. The Foxes garnered three penalty corners in the first half and created two great scoring chances for Paige Ryan and Abby Pitcairn but both of their shots went wide of the net, keeping the game scoreless at halftime.
In the second half, Fox Chapel continued to press the NA net and broke through with 15:55 on the clock when Pitcairn stole a pass, weaved through the Tigers defense and uncorked a shot that was saved by Rena Israel. The rebound deflected toward Ryan who cashed in for a goal and a 1-0 Foxes lead.
The Tigers immediately responded with two terrific scoring chances but were turned away by Foxes goalie Marissa Hardiman. North Allegheny turned up the urgency thanks in part to forwards Angie Genter and midfielder Brooke Cameron. Sophomores Bridget Russell and Lauren Schendeman were also strong in the midfield and on defense. For her efforts, Russell was named the Wright Automotive Player of the Game.
Despite the increased intensity by the Tigers, Fox Chapel was able to put the game on ice with two goals by Katie McIlroy with 7:44 and 3:10 remaining to close out a 3-0 win. It was Fox Chapel's fourth straight win over North Allegheny dating back to 2014.
North Allegheny's season concludes with an overall record of 8-10-1. In a season of injury and adversity, the Tigers again reached the WPIAL playoffs and performed admirably. Congratulations to the Lady Tigers head coach Maddy Berkley for a terrific 2016 season.
Field Hockey Summary vs. Fox Chapel, 10-26-16
| GAME SUMMARY | | | |
| --- | --- | --- | --- |
| SCORE BY HALVES | 1 | 2 | FINAL |
| North Allegheny | 0 | 0 | 0 |
| Fox Chapel | 0 | 3 | 3 |
Field Hockey Individual Scoring vs. Fox Chapel
| INDIVIDUAL STATS | | |
| --- | --- | --- |
| FIRST HALF | | |
| | NO SCORING | |
| SECOND HALF | | |
| Fox Chapel | Paige Ryan | 15:55 |
| Fox Chapel | Katie McIlroy | 7:44 |
| Fox Chapel | McIlroy | 3:10 |