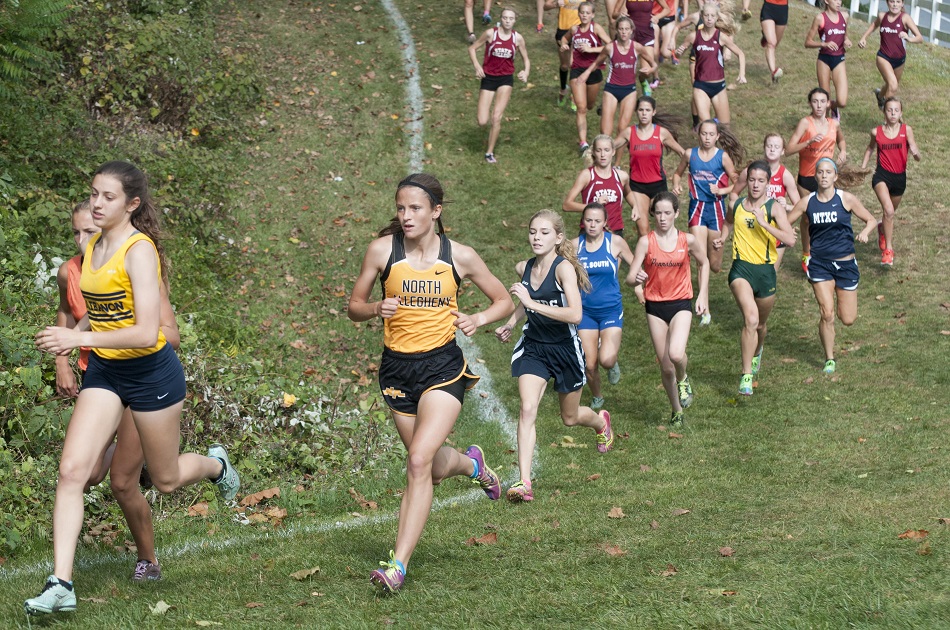 Good Showing For NA Cross Country At Tri-State Invitational
In a final tune-up before the WPIAL Championships next week, the North Allegheny Cross Country Team put forth a strong showing on Thursday afternoon at the Tri-State Invitational at Cooper's Lake.  The NA Boys took second place with a team score of 164 and the Lady Tigers claimed fifth place with a team score of 235.
The top time for the NA Boys was provided by senior Mike Becich who crossed the finish line at 17:09, good for 14th place individually.  Senior Katie Guarnaccia posted the top time for the Lady Tigers at 20:52 for a 21st place finish.  Full NA results are listed below.
Up next, the WPIAL Championships on Thursday at 2:30 pm at the same location as today's meet, Cooper's Lake.
| MEET SUMMARY - BOYS | | |
| --- | --- | --- |
| PLACE | TEAM | SCORE |
| 1 | Mt. Lebanon | 97 |
| 2 | NORTH ALLEGHENY | 164 |
| 3 | Altoona | 166 |
| 4 | Mars | 280 |
| 5 | Seneca Valley | 284 |
| MEET SUMMARY - GIRLS | | |
| --- | --- | --- |
| PLACE | TEAM | SCORE |
| 1 | Villa Maria | 184 |
| 2 | Seneca Valley | 208 |
| 3 | Mars | 222 |
| 4 | North Hills | 228 |
| 5* | NORTH ALLEGHENY | 235 |
| 6* | Kiski Area | 235 |
| INDIVIDUAL RESULTS | | |
| --- | --- | --- |
| NA BOYS | | |
| 14 | Mike Becich | 17:09 |
| 30 | Nicholas McClure | 17:28 |
| 32 | Peter Savchik | 17:30 |
| 39 | Chris Chang | 17:34 |
| 49 | Kolbe Short | 17:44 |
| 58 | Bobby Lutz | 17:52 |
| 61 | Zach Dieble | 17:53 |
| | | |
| NA GIRLS | | |
| 21 | Katie Guarnaccia | 20:52 |
| 24 | Caroline Cwalina | 20:59 |
| 35 | Erin Keelan | 21:17 |
| 77 | Veronica Bella | 22:04 |
| 78 | Bret Serbin | 22:04 |
| 90 | Caroline Baird | 22:11 |
| 92 | Abby Fantaski | 22:14 |