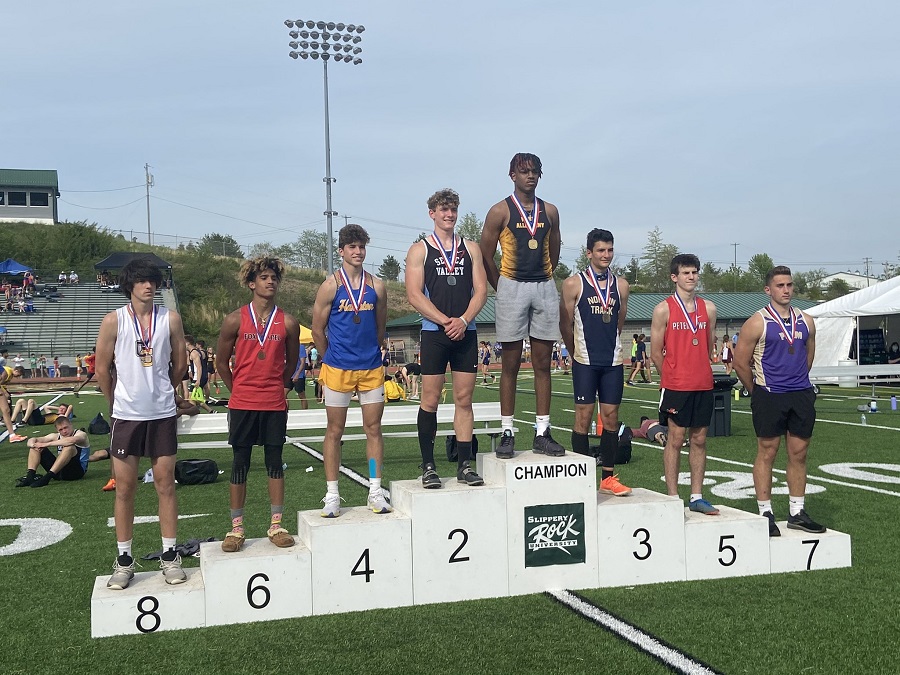 Hot performances by Tigers at WPIAL Individual Championships
With the hottest day of the season came some hot performances at the WPIAL Individual Championship Meet hosted by Slippery Rock University.  The meet showcased up to 24 of Western Pennsylvania's best performers in each of the Track and Field events.
Medalists from the North Allegheny Girls Team included freshman sensation Eva Kynaston's 8th place in the 3200m Run, thrower Alaina Fantaski's 6th place in the Javelin, and running her personal best of the season Rachael Johns placing 7th in the 100m Hurdle Race.  Jackie DiGiacomo also placed 7th in the Discus Throw.  The 4x800m Relay team consisting of Rachel Hockenberry, Eva Kynaston, Maura Mlecko, and Alexis Sundgren all stood on the podium with a 5th place medal wrapped around their necks. The 4x400m Relay team of Ginger Tegtmeier, Kenna Shannon, Rachel Hockenberry, and Lola Akindele finished 4th overall, which qualified them for the PIAA State Meet.  Senior Hurdler Aveline Plenter-Krelling climbed the highest on the podium with a 4th place performance and qualified for the State Meet in the High Hurdles race.
On the Boy's side, Christian Duckworth was able to vault into 7th place overall in the Pole Vault competition.  The remaining Tiger medalists also qualified for the State Meet:  Jacob Porter finishing 4th place overall in the 100m Dash and Dwayne Taylor earning 3rd place in the Long Jump.  Dwayne was crowned the WPIAL champion in the Triple Jump (in photo above) with a leap better than 2 and half feet over the rest of the competitors in the event.   The Tigers also medaled and qualified two of their relays teams to the State Meet.  The 4x800m Relay team of Connor Foody, Jackson Pajack, Greg Kossuth, and Zane Kinne finished in 4th place.  Also placing 4th was the sprint crew of Jacob Porter, Carson Sestili, Brandon Farr and Luke Grimes in the 4x100m Relay.
The PIAA State Meet is scheduled for Saturday, May 29th and will be held at Shippensburg University.