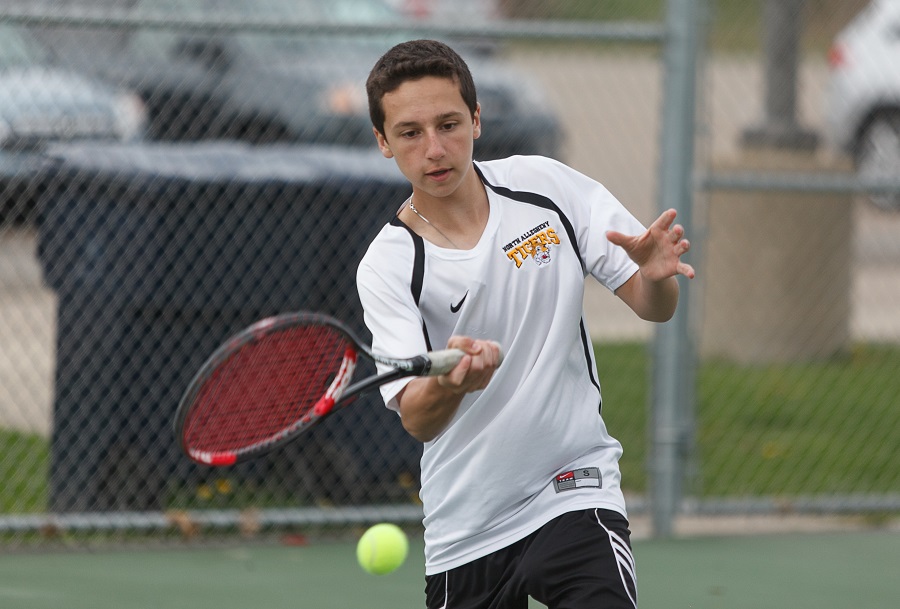 Isaacs, Hofmann Fall In Three Sets At WPIAL Doubles Championship
Outdoors Tuesday at Norwin High School, the Tiger tennis duo of junior Jared Isaacs and freshman Richard Hofmann (#3 seed) tangled with the number four seed from Mars, Josh Raymundo and Aaron Gruber, and fell just short of WPIAL gold.  All participants were faced with the challenge of top-notch competition and a 30 mile per hour wind that changed the flight plans of many shots.  In a tight and exciting three set match the Mars duo prevailed over the hard charging Tigers in a re-match of last week's Section 2 Doubles Championship.  Spotting Mars the first set 6-3, the Tigers bounced back and took the second set 6-4.  The third set saw Mars take advantage of NA errors to pull away and take the WPIAL title.
Isaacs and Hofmann represented the Tigers and Section 2 proudly and will move on to the PIAA Championship in Hershey, PA on May 22.   In the meantime, the Tiger team returns to action with a critical Section 2 match against Pine-Richland on the NASH courts Wednesday afternoon, with a starting time of 3:30 PM.
North Allegheny Summary –WPIAL Doubles Championship—Day Two (4-21-15)
Championship Round
#4 Josh Rayumdo/Aaron Gruber (Mars) def #3 Jared Isaacs/Richard Hofmann (NA) 6-3, 4-6, 6-2