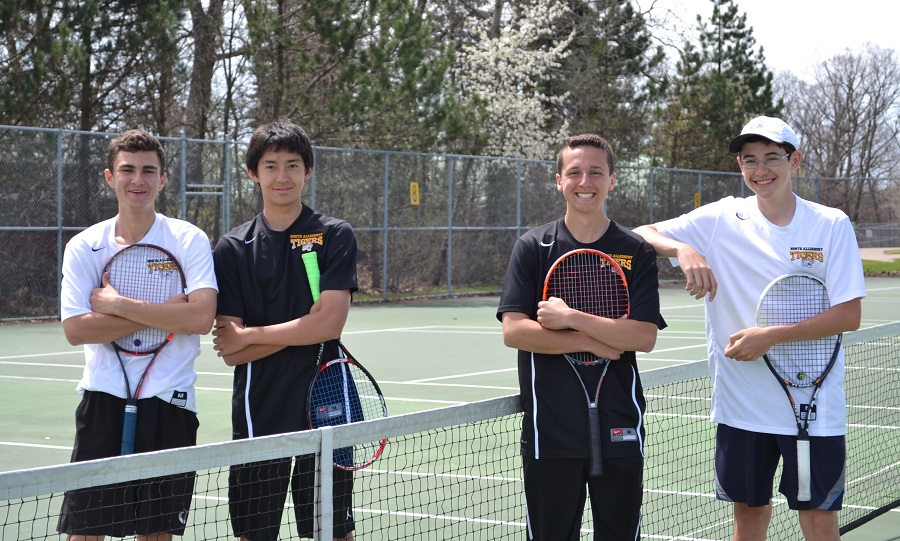 Isaacs, Hofmann Repeat as Section 2 Doubles Champions
The Section 2 Doubles Tournament continued Tuesday afternoon on the NASH courts, and when play ended the Tiger duo of senior Jared Isaacs and sophomore Richard Hofmann retained their championship crown.  Isaacs and Hofmann, the number one overall seed, came from behind 2-3 in the first set against Ben Vinarski and Sid Iyer of Pine-Richland.  Isaacs held his service game to even at 3, and the duo then sandwiched two more breaks around a Hofmann hold for a 6-3 win.  The second set saw the Tigers race past the Rams for the championship. This marked the third consecutive year that Isaacs has come out of Section 2 as a doubles champion, twice with Hofmann.
Meanwhile, the duo of sophomores Andrew Chuirazzi and Ivan Voinov, the 5th seeds, played two competitive sets with Moon's number 3 seeds, DeAngelo and Skow, falling in a close match in the consolations.  Both teams will advance to play in the WPIAL Doubles Tournament, to be held Monday, April 25, at Norwin High School at 12:30 PM.
North Allegheny Summary –AAA Section 2 Doubles Championship –Day 2 (4-19-16)
Championship Round
#1 Jared Isaacs/Richard Hofmann (NA) def. #2 Ben Vinarski/Sid Iyer (P-R) 6-3, 6-2
Consolation Round
#3 Logan DeAngelo/Jaron Skow (Moon) def. #5 Andrew Chuirazzi/Ivan Voinov (NA) 7-5, 6-4