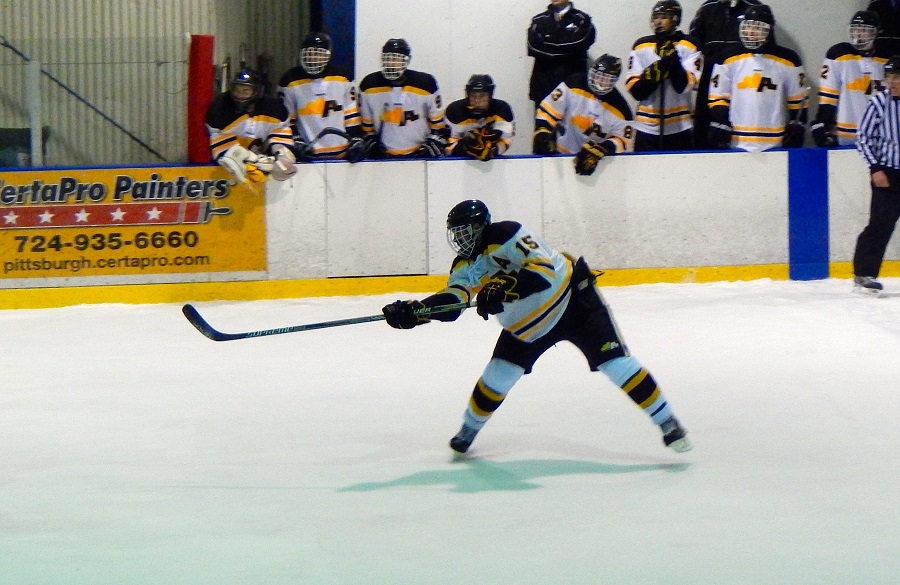 Rams Late Goal Ends Tigers Unbeaten Streak At Eight
Jack Drury's goal with 1:02 remaining lifted Pine-Richland to a 4-3 victory over North Allegheny on Monday night from the BladeRunners complex in Warrendale.  The Tigers were hit with a slashing penalty at the 14:21 mark of the period and the Rams took advantage with Drury's power play goal break a 3-3 tie and give the Rams an upset win.
After a scoreless first period, Matt Cole gave Pine-Richland a 1-0 lead with a goal less than two minutes into the second period. North Allegheny bounced back with goals by William Rahenkamp and Joseph Zappia III to take a 2-1 lead with 5:16 to play in the period.  Cole struck again to tie the game for the Rams with a short-handed tally with 2:51 left in the stanza.
Early in the third period, Pine-Richland vaulted ahead on a Michael Corrozzi goal to give the Rams a 3-2 lead.  NA answered back when Rahenkamp notched his second goal of the night on a power play to even the game at 3-3 with 4:21 remaining in regulation.  Moments later, the Tigers were hit with a two-minute slashing penalty that ultimately led to the power play goal by Drury to give PR the win.
The loss ends North Allegheny's unbeaten streak at eight. The Tigers sit at 8-2-2 on the season and fall to second place in the Class AAA standings.  Pine-Richland improves to 3-8-1 with the win.  North Allegheny looks to rebound next Tuesday, December 23 at Penn-Trafford.
Ice Hockey Summary vs. Pine-Richland, 12-15-14
| GAME SUMMARY | | | | |
| --- | --- | --- | --- | --- |
| SCORE BY PERIODS | 1 | 2 | 3 | FINAL |
| Pine-Richland | 0 | 2 | 2 | 4 |
| North Allegheny | 0 | 2 | 1 | 3 |
Ice Hockey Individual Scoring vs. Pine-Richland
| INDIVIDUAL STATS | | |
| --- | --- | --- |
| FIRST PERIOD | | |
| | NO SCORING | |
| SECOND PERIOD | | |
| Pine-Richland | Matt Cole (Michael Haughey) | 1:50 |
| North Allegheny | William Rahenkamp (Erik Chidester, Dominick Zangaro) | 8:59 |
| North Allegheny | Joseph Zappia III (Zangaro, Ian Cunningham) | 11:44 |
| Pine-Richland | Matt Cole (Ben Meyer) - SH | 14:09 |
| THIRD PERIOD | | |
| Pine-Richland | Michael Carrozzi (Christopher Jenkins) | 1:30 |
| North Allegheny | Rahenkamp (Chidester, Dawson Richard) - PP | 12:39 |
| Pine-Richland | Jack Drury (Spencer Smith, Nate Carnovale) - PP | 15:58 |