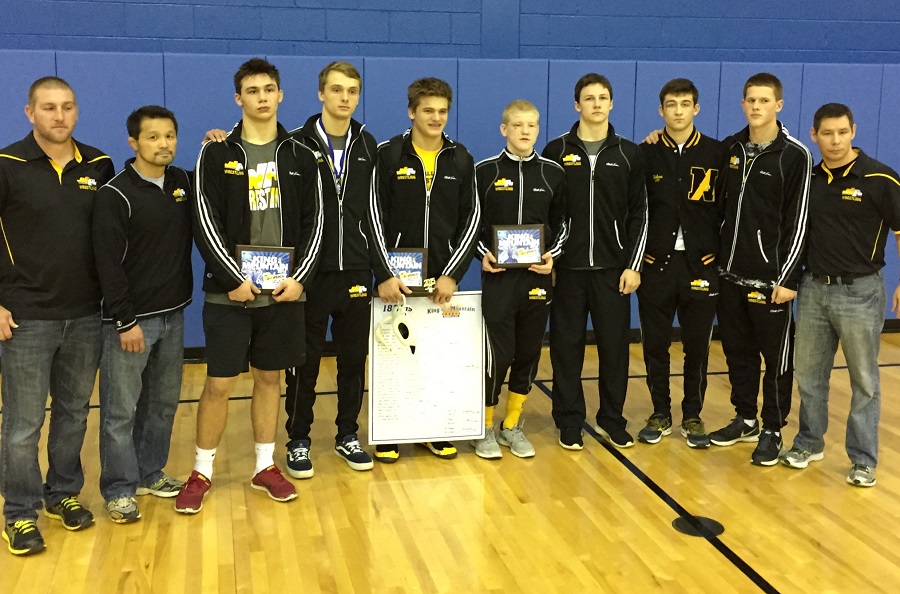 Jake Woodley Wins Gold, Four Tigers Medal at King of the Mountain Tournament
Four Tigers medaled at the King of the Mountain wrestling tournament at Central Mountain High School this weekend. Only seven wrestlers competed for North Allegheny as the Tigers finished with a team score of 104 and took eighth place at the tournament. However, there were several top-shelf performances by the black and gold, highlighted by a first-place showing from junior Jake Woodley at 182 pounds.
Woodley defeated three top-ten wrestlers en route to 182-pound gold. With a win by fall and tech fall to start the tournament, Woodley cruised to the quarterfinals where he defeated fifth-ranked Gregg Harvey of Boyerstown by a 3-1 decision. In the semifinals, Woodley earned a 3-1 decision over eighth-ranked Adam Soldridge of Bethlehem Catholic. In the championship bout, Woodley beat top-ranked Jake Shaffer of Greater Latrobe by a 7-3 decision.
Luke Landefeld (120) and Francis Duggan (195) collected silver medals in their respective weight classes. Landefeld earned an exciting 2-1 overtime decision over Luke Carty of Bethlehem Catholic in the semifinals before eventually falling to fourth-ranked Austin Desanto of Exeter Township by a narrow 4-3 decision. For Duggan, he delivered a win by fall over Jody Crouse of Bethlehem Catholic in the quarterfinals and beat fifth-ranked Trey Hartsock of Mifflin County in the semifinals, 3-1, in overtime. It took a 2-1 overtime decision by Justin Allman of Parkersburg South to edge Duggan in the championship bout at 195. Allman is a two-time West Virginia state champion.
At 152 pounds, Sean Kalmeyer came away with a seventh place finish. The NA senior went 5-2 at the tournament with a tech fall, including wins over 10th-ranked Hunter Vogels of Boyerstown and 13th-ranked Seth Young of Jersey Shore.
Other Tigers who saw action were Jake Hinkson (138), Jacob Smalley (160) and Jacob Fritsch (170). Hinkson went 2-2 at the tournament with a fall and tech fall. Smalley earned his first career varsity wins with a pair of falls and a 2-2 performance. Fritsch was 1-2 in his three bouts. For a look at all of the brackets from the King of the Mountain Tournament, click here.
North Allegheny will return to action on Wednesday night with a section matchup against the Knoch Knights. The match will be broadcast live via the internet on the North Allegheny Sports Network.