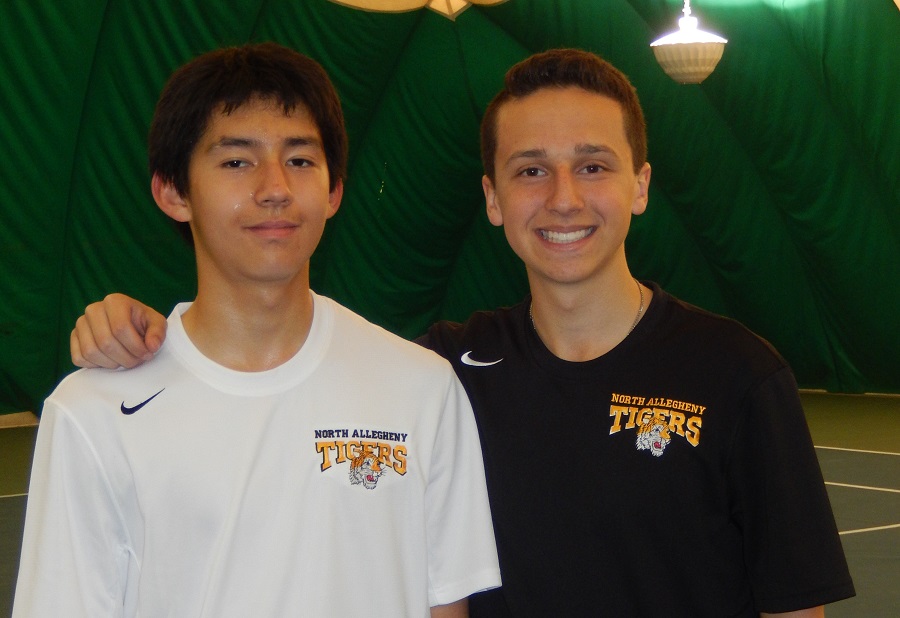 Jared Isaacs Crowned Section 2 Singles Champion
The climactic day of the AAA Section 2 Tennis Singles Tournament was played indoors again at PURE Athletex Tuesday afternoon due to below average temperatures for early April. Senior Jared Isaac's game was well above average, however, as he captured the first Section 2 Singles title in his North Allegheny career.  The number one seed defeated Logan D'Angelo of Moon (#4) in straight sets in the semi-final round to advance to the championship contest. Sophomore Richard Hofmann (#3) tangled with Ben Vinarski (#2) in an exciting three set semi-final match but fell in the end to the Pine-Richland veteran.  Playing in the consolation contest, Hofmann played well but was downed by D'Angelo.
The championship round proved to be a short-order affair, as Isaacs dominated Ben Vinarski in straight sets to capture the title.   The top four finishers (Isaacs, Vinarski, D'Angelo and Hofmann) now advance to the WPIAL Singles tournament next week, to be held at Norwin High School on Monday, April 11.
WPIAL AAA Section 2 Singles Tournament—4-5-16
Semifinal Rounds
Jared Isaacs (NA) def. Logan D'Angelo (Moon) 6-1, 7-5
Ben Vinarski (P-R) def. Richard Hofmann (NA) 4-6, 6-2, 6-4
Consolation Round
Logan D'Angelo (Moon) def. Richard Hofmann (NA) 6-2, 6-3
Championship Match
Jared Isaacs (NA) def. Ben Vinarski (P-R) 6-1, 6-4