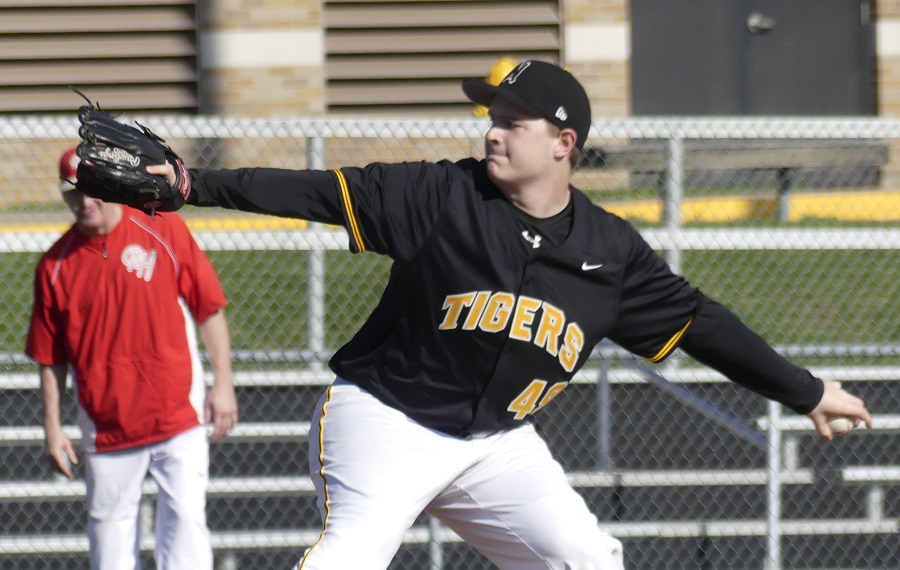 Kevin Janosko Throws No-Hitter in 11-0 Win Over Penn Hills
North Allegheny senior pitcher Kevin Janosko tossed a five-inning no-hitter against the Penn Hills Indians on Wednesday afternoon as the Tigers seized an 11-0 non-section win. Janosko silenced the Indians with five dominant innings, striking out seven without walking a batter. The no-hitter by Janosko was the seventh in program history and the first since Danny Caropresi and Jon Dignazio combined for a seven-inning no-hitter against Hampton on April 16, 2016.
While Janosko was masterful on the mound, the Tigers batting order provided plenty of run support and jumped out to a 7-0 lead through two innings and invoked the 10-run rule with four more runs in the fourth inning. Senior Andrew Turzai paced the lineup by going 2 for 3 with two doubles and five RBI's. Senior Alex Mesaros drove home three runs, while juniors Colin Cain and Luke Trueman scored three runs apiece. Every player in the starting lineup reached base in the one-sided victory.
North Allegheny improves to 5-0 overall, while Penn Hills remains winless with an 0-3 mark. The Tigers are scheduled to visit Shaler on Friday afternoon in the Section 1-AAAAAA opener.
Baseball vs. Penn Hills, 4-5-17
| Score by Innings | 1 | 2 | 3 | 4 | 5 | 6 | 7 | | R | H | E |
| --- | --- | --- | --- | --- | --- | --- | --- | --- | --- | --- | --- |
| Penn Hills | 0 | 0 | 0 | 0 | 0 | X | X | | 0 | 0 | 1 |
| North Allegheny | 4 | 3 | 0 | 4 | X | X | X | | 11 | 10 | 2 |
WP - Kevin Janoski (1-0) LP - Barbarino