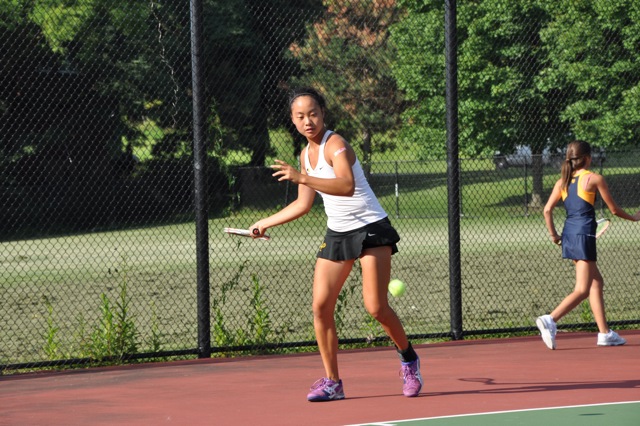 Lady Tiger Tennis Sweeps Seneca Valley 5-0
Without dropping a set, the Lady Tigers made quick work of the Seneca Valley Raiders in a Section 2 matchup. With the victory North Allegheny improves their overall record to 13-0 and 8-0 in section play.
In singles action the Lady Tigers did not yield even one game as all three matches were 6-0, 6-0 straight set victories. At #1 Singles Anna Li defeated Raider Kerry Shultz. Tiger Tina Li defeated Cylie Aeonsohn at #2 and Eugenia Lee defeated Abbey White at #3.
The Lady Raiders were able to scratch out a total of 3 games in the two doubles matches as the Tigers swept in straight sets. #1 doubles featured Tigers Trystyn Maslouf and Catherine Liu who swept Raiders Allie Head and Allie Grence 6-0,6-2. At #2 doubles NA's Sydney Boyd and Catherine Zhang teamed to be Seneca Valley's Melissa Karidis and Aubrey Stanchak 6-0, 6-1. The Lady Tigers will look to continue their impressive season in the Section 2 doubles tournament Tuesday and Wednesday.
Match Summary

NORTH ALLEGHENY - 5
SENECA VALLEY - 0
SINGLES
#1
Anna Li (NA) def. Kerry Shultz (SV)
6-0, 6-0
#2
Tina Li (NA) def. Cylie Aeonsohn (SV)
6-0, 6-0
#3
Eugenia Lee (NA) def. Abbey White (SV)
6-0, 6-0
DOUBLES
#1
Tristyn Maslouf/Catherine Liu (NA) def. Allie Grence/Allie Head (SV)
6-0, 6-2
#2
Sydney Boyd/Catherine Zhang (NA) def, Melissa Karidis/Aubrey Stanchak (SV)
6-0, 6-1