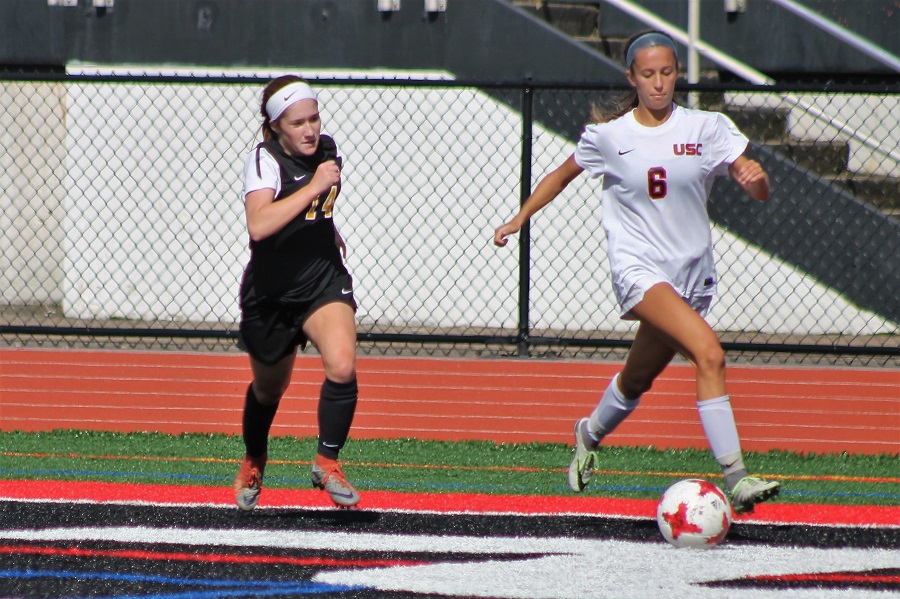 Lady Tigers Blank No. 4-Ranked Upper St. Clair, 2-0
By Girls' Soccer Contributor
Hoping to build on a dominating 7-0 win over Altoona on Thursday night, the North Allegheny girls' soccer team continued its impressive play by blanking the No. 4-ranked Upper St. Clair Panthers on Saturday afternoon, 2-0. The second straight shutout by the Tigers was keyed by seniors Caroline Wood and Ally Longo on defense.
Although Upper St. Clair controlled much of the first 10 minutes of the game, junior Alex Adams abruptly halted the Panthers momentum and scored the game's first goal at the 16:34 mark for a 1-0 North Allegheny lead. On the opening goal, Adams took a feed from sophomore Emma Bundy, off a nice pass from fellow sophomore Ava Ruppersberger, and buried the shot in the back of the Panthers net.  The game went back and forth with USC and NA trading scoring chances.  At the 31:49 mark of the first half, sophomore Hannah Kirkpatrick put a through ball to Ava Ruppersberger for the second tally of the game and a 2-0 lead.
NA completely shut down the offense of USC in the second half.  Senior goaltenders Olivia Ruppersberger and Julia Correa combined for 11 saves in the joint shutout effort.  Also anchoring what is becoming a stymieing defense were junior Jetta Kroll and defending midfielder Dilara Ozdoganlar.
North Allegheny improves to 2-1 on the season following the win, while Upper St. Clair falls to 1-2-1. The Lady Tigers will host the Seneca Valley Raiders in the Section 1-AAAA opener on Monday night at 7:30 p.m. The game will be broadcast live by the North Allegheny Sports Network.