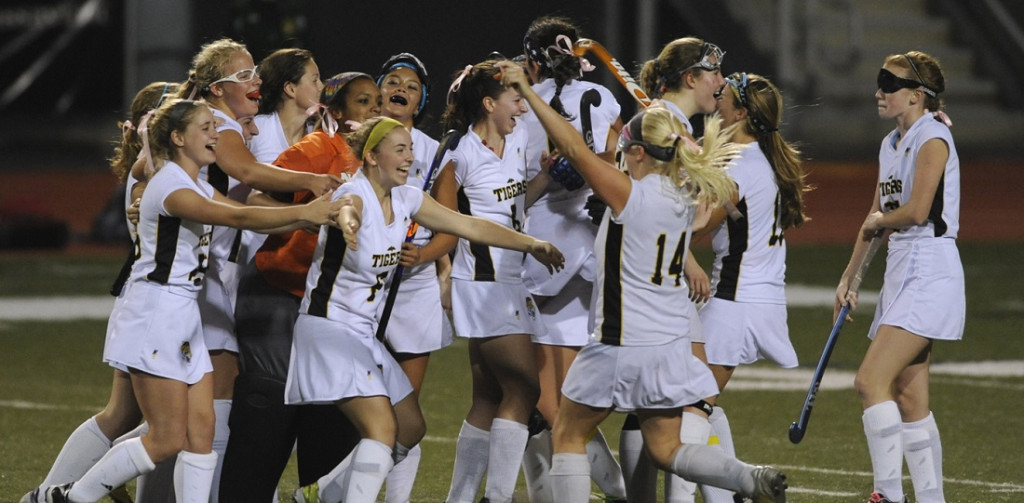 Lady Tigers Clinch Share Of Section Title
by Carla Brandon
The Tigers hosted Section 1 rival Penn Trafford for Senior Night on Saturday evening, shutting down the Warrior offense and blanking them 4-0.  NA was off and running in a fast-paced game that would see many changes of possession in the neutral zone.  Less than seven minutes into the game, NA would post their first goal when junior Nicole Burns received a pass and took a wicked drive that was tipped in by senior Bree Monnin.  After much back and forth play, it would be another fifteen minutes before the Tigers could strike again, when junior Jessica Brandon crossed the ball into the circle and Monnin was able to tip the ball, but junior Kaily Vogl also got a stick on the ball, and directed it into the net for the score.  Penn Trafford would be stopped on several attempts to move the ball into the Tiger defensive zone, finally managing a shot on goal near the end of the period that was ably kicked away by senior Morgan Mendenhall.  The half would end with the Tigers up 2-0.
Penn Trafford would not give up, hustling to get back into the game in the second half.  But it would be up to the talented wall of junior midfielders Hannah Downing, Megan Guzzardi and Burns to turn  the Warriors away and take possession on play after play.  With around 12 minutes remaining in the game, the Tigers would initiate an offensive rush when Brandon received a pass in the slot from sophomore Maddy Snyder and buried the ball behind the Penn Trafford goalie.  Then with just 6 minutes remaining, NA's Downing would strike for the final tally on a penalty corner, blasting a shot that went airborn and was deflected by the Warrior goalie, propelling the ball up over her own shoulder and into the net.  Guzzardi was awarded the assist after receiving a pass from Burns to set up the goal.  Due to the strong play of the Tiger defense, including seniors Liza Pucciarelli and Veronica Iriart, Penn Trafford would fail to get another shot on goal even after being awarded five consecutive penalty corners with just minutes remaining in the game.  The Tigers tallied nine shots on goal in the contest, receiving several good scoring chances generated by seniors Briget Zehr, Amanda Jagus and Agathe Jailliard.
The Tigers travel to Pine Richland on Tuesday to finish their regular season in a section game against the Rams.  A win will keep the Tigers at the top of the section with an undefeated record in section play.   However, a loss to Pine Richland would leave the Tigers tied with the Rams for the section title.  Please cheer on the Lady Tigers in the annual "Play for the Cure" game at 7:30 (jv 6:00) at the Pine Richland High School stadium on Tuesday 10/15/13.
Field Hockey Summary vs. Penn-Trafford
| GAME SUMMARY | | | |
| --- | --- | --- | --- |
| SCORE BY HALVES | 1 | 2 | FINAL |
| Penn-Trafford | 0 | 0 | 0 |
| North Allegheny | 2 | 2 | 4 |
Field Hockey Individual Scoring vs. Penn-Trafford
| INDIVIDUAL STATS | | |
| --- | --- | --- |
| FIRST HALF | | |
| North Allegheny | Bree Monnin (Nicole Burns) | 6:42 |
| North Allegheny | Kailey Vogl (Monnin) | 22:23 |
| SECOND HALF | | |
| North Allegheny | Jessica Brandon (Maddy Snyder) | 17:54 |
| North Allegheny | Hannah Downing (Megan Guzzardi) | 23:39 |