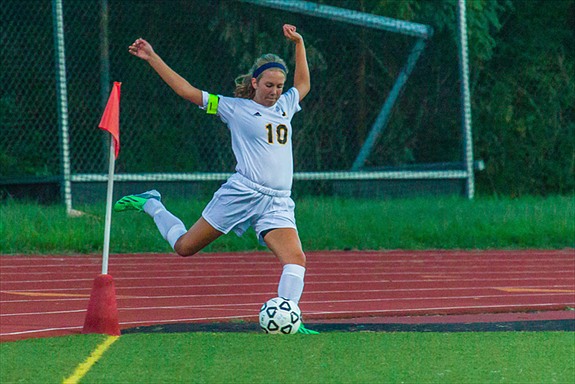 Lady Tigers Drop First Game Of The Season To Raiders, 4-3
In a wide open and hard fought  ballgame, the Seneca Valley Raiders slipped by the North Allegheny Tigers on Monday night, 4-3, at Nextier Stadium. The win for the Raiders puts them in first place, a half-game in front of the Lady Tigers atop Section 2-AAA.
The Raiders struck early in the game with a marker by senior Myra Charles in the contest's 4th minute to give SV a 1-0 lead. Charles had a chance in the 10th minute to score again but was denied on a fine save by NA senior goalie Madison Martin. The Tigers answered in the 25th minute when sophomore Amanda Miller was taken down in the box and was awarded a penalty kick.  Miller drove home the penalty kick to even the score, 1-1.
The ebb and flow continued as Seneca Valley regained the advantage in the 29th minute when junior Alicia Hart drove a direct kick toward the net that was headed in by sophomore Caroline Miller and it was 2-1, Raiders.  Three minutes later it was Hart who scored to give Seneca Valley a 3-1 lead.  The Tigers replied in the 34th minute thanks to a pass by Alexa Mermigas that found the toe of Amanda Miller for her second goal of the night and cut the deficit to 3-2.  The Raiders regained their two goal pad a minute later courtesy of an Emily Wagner tally to push the score to 4-2.
In the second half, the Tigers scored quickly to put the pressure on Seneca Valley as Megan Van Kirk scored on a pass from Amanda Miller to trim the Raiders lead to one goal.  However, the Tigers could not find the equalizer over the remainder of the half and NA fell for the first time this season, 4-3. The four goals scored by Seneca were the most allowed by North Allegheny this season.  The Tigers had allowed a total of four goals in 10 prior section games.
With their first loss, North Allegheny drops to 13-1-1 overall and 9-1-1 in section play. Seneca Valley improves to 14-2 overall and 9-1-1 in the section.  The Lady Tigers look to bounce back with a section home game against North Hills on Wednesday night.  Kickoff is scheduled for 7:30 pm.
Girls Soccer Summary vs. Seneca Valley 10-7-13
| GAME SUMMARY | | | |
| --- | --- | --- | --- |
| SCORE BY HALVES | 1 | 2 | FINAL |
| North Allegheny | 2 | 1 | 3 |
| Seneca Valley | 4 | 0 | 4 |
Girls Soccer Individual Scoring vs. Seneca Valley
| INDIVIDUAL STATS | | |
| --- | --- | --- |
| FIRST HALF | | |
| Seneca Valley | Myra Charles | 4th minute |
| North Allegheny | Amanda Miller | 25th minute |
| Seneca Valley | Caroline Miller (Alicia Hart) | 29th minute |
| Seneca Valley | Hart | 32nd minute |
| North Allegheny | Amanda Miller (Alexa Mermigas) | 34th minute |
| Seneca Valley | Emily Wagner | 35th minute |
| SECOND HALF | | |
| North Allegheny | Megan Van Kirk (Amanda Miller) | 2nd minute |