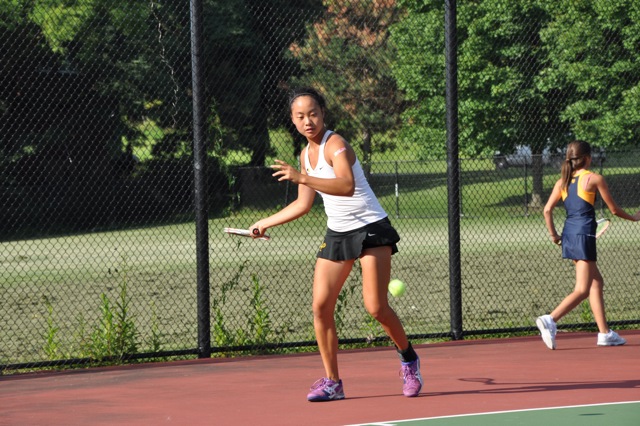 Lady Tigers Make Quick Work Of Shaler, 5-0
The North Allegheny Girls Tennis Team breezed by the Shaler Titans on Tuesday afternoon with a 5-0 victory.  The Lady Tigers did not lose a single game to the outmatched Titans in a landslide victory.  Anna Li, Eugenia Lee and Tristyn Maalouf collected wins in singles play. In doubles, Catherine Liu and Catherine Zhang rolled to victory, while Elena Kolano and Emma Seymour cruised to a quick win.
The Lady Tigers remain perfect on the season with a 6-0 overall record and 4-0 section mark.  NA hosts Peters Township in a non-section match on Thursday at 3:30 pm.
Match Summary

NORTH ALLEGHENY - 5
SHALER - 0
SINGLES
#1
Anna Li (NA) def. Larissa Gutring (SA)
6-0, 6-0
#2
Eugenia Lee (NA) def. Taylor Elrick (SA)
6-0, 6-0
#3
Tristyn Maalouf (NA) def. Hannah Boehler (SA)
6-0, 6-0
DOUBLES
#1
Catherine Liu/Catherine Zhang (NA) def. Megan Hannah/Emily Watts (SA)
6-0, 6-0
#2
Elena Kolano/Emma Seymour (NA) def. Kara Jans (SA)
6-0, 6-0