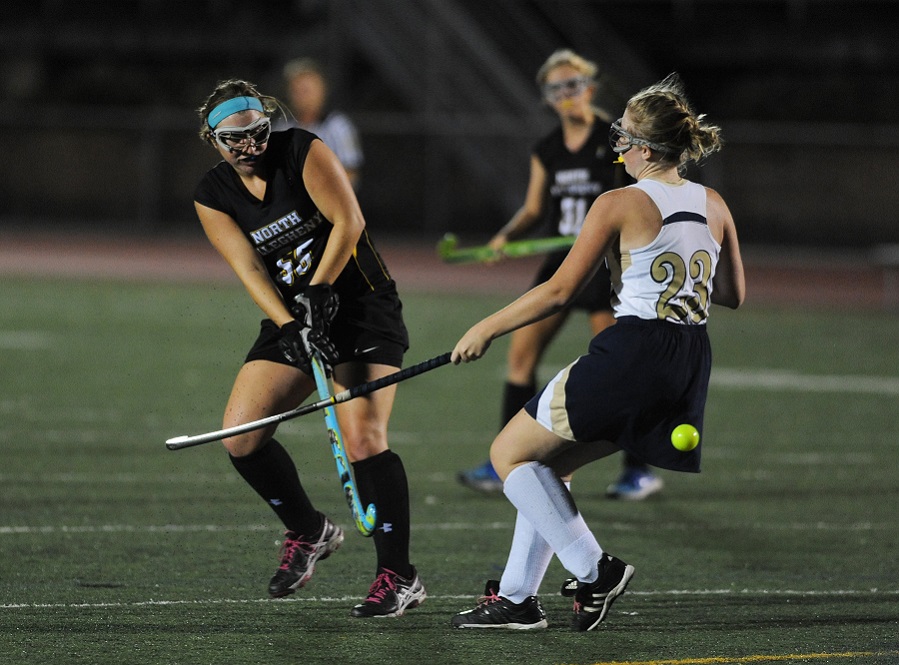 LADY TIGERS SLAY KNIGHTS IN SUDDEN DEATH, 1-0
The NA Lady Tigers visited Irwin Thursday evening to play section foe Norwin and came away with an exciting 1-0 overtime victory.
The game was a thriller from the start as both teams exchanged breakaway chances on multiple occasions in the first half.  NA senior goalie Rena Israel stood tall under heavy pressure early, shutting down the Knights on four breakaways and stopping all six shots she faced.  She was assisted with stellar play from sophomore defensive midfielder Laura Schwendeman and senior sweeper Gabby Herbert, both of whom refused to let Norwin establish any consistent offensive pressure.  Although the Lady Tigers had a number of quality scoring chances in the first half, they were unable to convert and the half ended 0-0.
NA took control of the game in the second half. Senior midfielder Brooke Cameron, junior midfielder Gracie Limauro, and sophomore midfielder Bridget Russell continued their strong play, relentlessly pushing the ball upfield and into Norwin's defensive circle.  Inside the circle, senior forward Alyssa Hillenbrand and the NA forwards directed a number of shots on cage in the second half, but the Tigers and Knights remained knotted at 0-0 at the end of regulation and headed to sudden death overtime.
From the start of overtime, it was clear that the Lady Tigers would not be denied. They dominated the first five minutes of play, and their effort was rewarded when sophomore forward Angie Genter scored off an assist from senior forward Erin Coran, setting off a wild victory celebration on the field.
The win brings NA's Conference and Section record to 2-0, and their overall record to 2-3-1. The Tigers next travel to Hempfield on Tuesday.  Game time is 7:30 pm (JV at 6:00 pm).
Field Hockey Summary vs. Norwin, 9-15-16
| GAME SUMMARY | | | | |
| --- | --- | --- | --- | --- |
| SCORE BY HALVES | 1 | 2 | OT | FINAL |
| North Allegheny | 0 | 0 | 1 | 1 |
| Norwin | 0 | 0 | 0 | 0 |
Field Hockey Individual Scoring vs. Norwin
| INDIVIDUAL STATS | | |
| --- | --- | --- |
| FIRST HALF | | |
| | NO SCORING | |
| SECOND HALF | | |
| | NO SCORING | |
| OVERTIME | | |
| North Allegheny | Angie Genter (Erin Coran) | 10:00 |