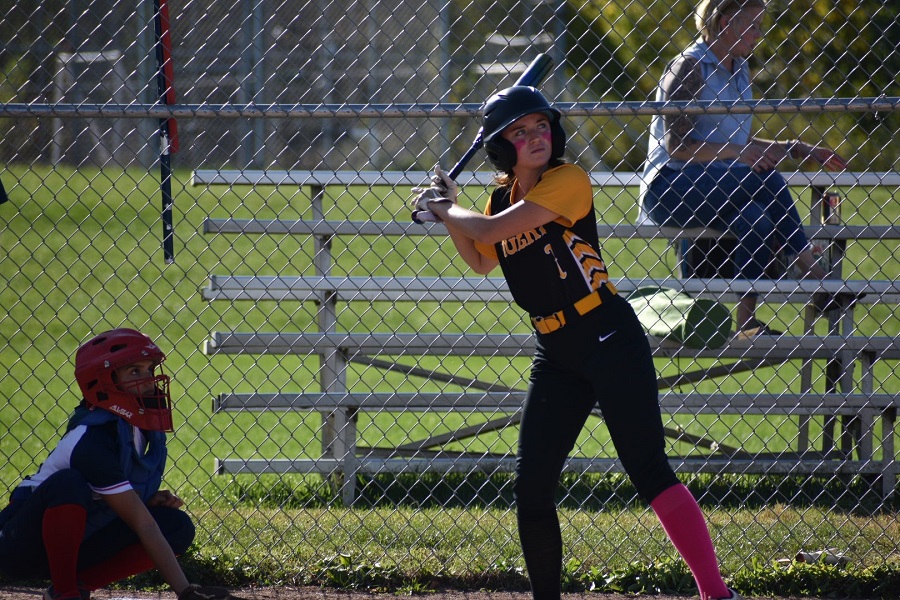 Lady Tigers split with Shaler Titans
The North Allegheny Lady Tigers matched-up with the first-place Shaler Titans on Sunday and split the twin bill at Marshall Middle School, dropping game one, 6-3, but bouncing back in game two for 16-3 victory.
Game one proved to be a pitcher's duel. The Titans started off strong in the first by placing three runs on the score sheet to open the game. The Tigers got one back in the bottom half when senior Audrey Laswell singled to knock in junior Helen Katyal. No scoring until the bottom of the third when the Tigers tied the game off an RBI double by senior Evelyn Wiethorn, scoring both Nina Pietrzak and Riley Yates who had doubled two batters earlier. The score remained tied until the top of the seventh when the Titans were able to push three runs across the plate. NA was unable to muster much offense in the bottom half giving the Shaler Titans their 10th victory of the 2021 campaign.
The Lady Tigers bounced back in a big way for game two of the twin bill with the first five batters all recording base hits to start the game. Leading the charge was senior Meghan Quinlan with a run-scoring double. Wiethorn, sophomores Reilly Spitz and Jayna Cole also registered RBIs to give the Tigers a six-run lead. Shaler threatened in the bottom half of the first but was shut down by a throw from Quinlan to catcher senior Sydney Besket, nailing a Lady Titan attempting to score from second on a base hit.
NA added two more runs in the second, highlighted by a triple off the bat of speedy Helen Katyal. Yates knocked her in with a towering sac fly to deep right center field. Wiethorn then scored on a single off the bat of Besket to increase their lead to 8-0. The Tigers continued to add runs to the score sheet in the third inning. With the bases loaded, after hits by Spitz and Pietrzak and a walk to senior Emily Yanchak, Katyal came to the plate and smacked her second triple of the game along with two RBIs. Quinlan matched Kaytal's effort with a run-scoring triple of her own, giving the Tigers a 10-3 lead after three innings of play.
Both teams remained off the scoreboard until the seventh when NA scored four more times highlighted by a bases-clearing double to the right-center gap by Pietrzak. Yanchak shutdown the Lady Titans in the bottom half of the seventh handing them their fourth loss of the season.
The Lady Tigers wrap-up regular season play at Seneca Valley Oct. 17 beginning at 2 PM.