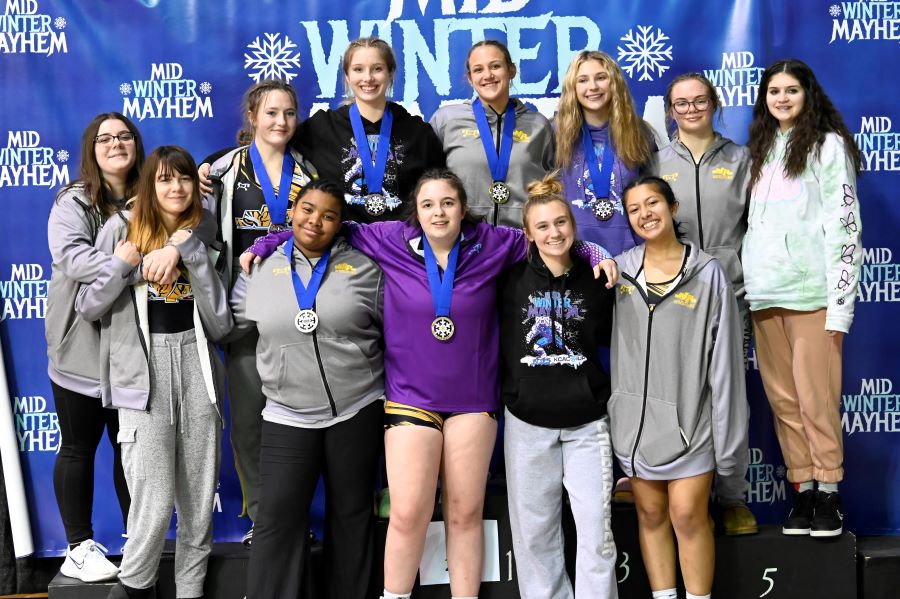 Lady Tigers Take 2nd Place At Mid-Winter Mayhem, Two Individuals Crowned Champs
The North Allegheny girls' wrestling took home a second-place finish at the Mid-Winter Tournament at the Kovalchick Convention Center at Indiana University of Pennsylvania. The Lady Tigers totaled a team score of 105.5.
Individually, the Lady Tigers crowned two champions as junior Audrey Morrison took home first-place honors at 145 pounds and sophomore Kaylee Dean won tournament gold at 235 pounds. Junior Leyna Rumpler claimed tournament silver with a second-place showing at 152 pounds and freshman Amya Sanford did the same at 235 pounds. Freshman Sophia Folks garnered bronze at 132 pounds, while senior Callie Rautenbach (145) and sophomore Brenna Collery (138) both earned fourth-place finishes.
Morrison's run to Mid-Winter Mayhem gold began with a win by fall over Evangeline Gray of Canon-McMillan in 1:59. In the quarterfinals, Morrison picked up a 16-1 tech fall over Curwensville and followed with a 4-3 decision over Yana Noronha of Bishop McCort in the semifinal round. In the championship bout, Morrison matched up with Grace O'Korn of Canon-McMillan and earned an exciting 3-1 sudden victory.
Rumpler's trek through the 152-pounds bracket started in the quarterfinals with a win by fall against Angelina Grieb of Bald Eagle in 2:45. In the semifinals, Rumpler pinned Canon-McMillan's Dynasty Williams in 1:28 to reach the title bout. In the finals, Rumpler faced off against fellow PA National team member and #25 nationally ranked, Reagan Snider of Bishop McCort. The highly competitive bout ended with Snider countering a lake takedown attempt by Rumpler with 10 seconds left to win 5-1
At 235 pounds, Dean and Sanford took part in a round robin their weight class with both earning victories to start. Dean defeated Central Cambria's Jaclyn Watson with a quick win by fall in 53 seconds and Sanford earned a 10-3 decision against Isabella Spotti of Fort Cherry. Going head-to-head, Dean edged out Sanford by an 8-3 decision before securing gold with a win by fall against Spotti. Sanford finished in second place following a win by forfeit in her final bout.
At 132 pounds, Folks earned two victories by fall before facing the returning state runner-up, Chloe Ault of Canon Mac, in the semifinals. Ault prevailed in a back and forth 4-2 win. Folks picked up another fall in the consolation bracket before earning a 2-0 decision over Hope Carmona of Canon-McMillan in the third-place bout to win tournament bronze.
Rautenbach and Collery each went 2-2 at the tournament and earned fourth-place finishes in their respective weight classes.
Also representing the Tigers at Mid-Winter Mayhem were Ava Anthony (132), Ava Frailey (145), Isabella Cuomo (114) and Maya Scott (152). For a full look at North Allegheny's results at the tournament, click here.
North Allegheny looks to build off its second-place effort at Mid-Winter Mayhem with a home meet against the Seneca Valley Raiders on Wednesday night. The meet will be broadcast live by the North Allegheny Sports Network.