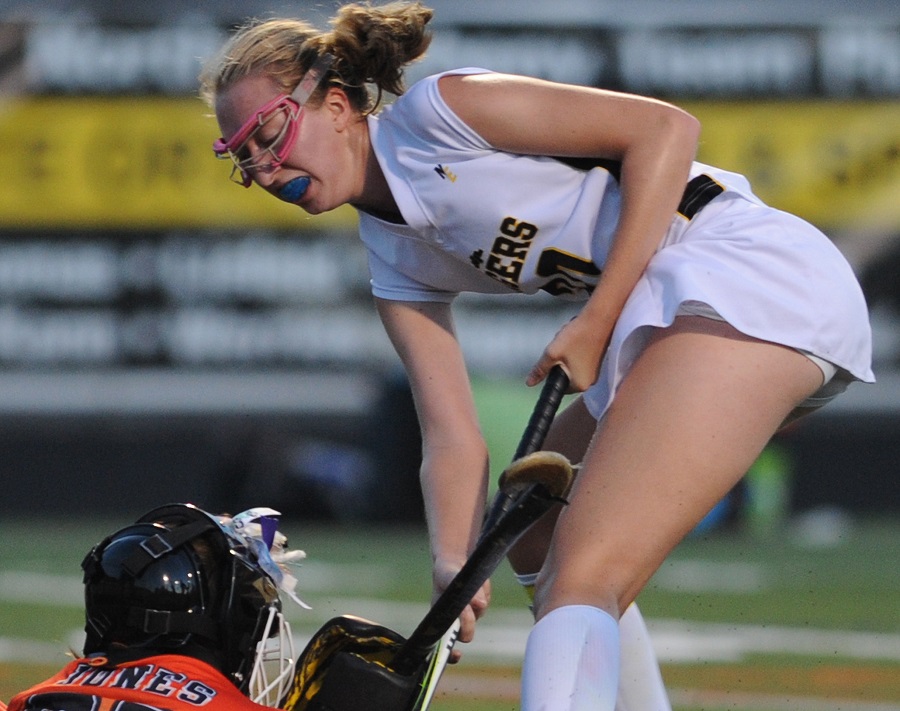 LADY TIGERS TAME WILDCATS 5-0 IN HOME OPENER
The NA Lady Tigers opened Section play Tuesday evening with a 5-0 victory over the Latrobe Wildcats at Newman Stadium. From the outset, the Lady Tigers controlled the play, forcing the ball deep in Latrobe territory and launching drives into the Wildcats' defensive circle.  NA struck first a mere 2:30 into the game when junior forward Gracie Limauro scored off a rebound.  Her goal was followed minutes later by a goal from sophomore forward Angie Genter, who scored off an assist from senior forward Erin Coran at the 25:44 mark.  Coran then scored at the mid-point of the first half deflecting a hard shot from senior midfielder Brooke Cameron, who got the assist.  Wildcats' goalie Libby Jones was able to keep the Lady Tigers at bay for the rest of the first half, saving 10 shots and denying NA on multiple penalty corners.  As a result, the first half ended with the Tigers up 3-0.
NA continued its offensive onslaught in the second half with 16 shots on goal and 16 penalty corners. Coran tallied her second goal of the contest at the 21:11 mark, and Genter scored her second goal with 2:24 remaining in the game off an assist from sophomore midfielder Bridget Russell.  Senior midfielder Lily DeNoma and senior defender Gabby Herbert played aggressively throughout the contest, and their drives, along with those of Cameron and Russell, gave the Tigers' forwards countless opportunities.  For the game, the Lady Tigers outshot Latrobe 29-0, and NA drew 26 penalty corners to the Wildcats' zero.
NA appears to have found its offense at the right time, as the Lady Tigers head to defensive-minded Norwin for their next game on Thursday. Game time is 7:30 pm (JV at 6:00 pm).
Field Hockey Summary vs. Latrobe, 9-13-16
| GAME SUMMARY | | | |
| --- | --- | --- | --- |
| SCORE BY HALVES | 1 | 2 | FINAL |
| Latrobe | 0 | 0 | 0 |
| North Allegheny | 3 | 2 | 5 |
Field Hockey Individual Scoring vs. Latrobe
| INDIVIDUAL STATS | | |
| --- | --- | --- |
| FIRST HALF | | |
| North Allegheny | Gracie Limauro | 27:30 |
| North Allegheny | Angie Genter (Erin Coran) | 25:44 |
| North Allegheny | Erin Coran (Brooke Cameron) | 16:42 |
| SECOND HALF | | |
| North Allegheny | Coran | 21:11 |
| North Allegheny | Genter (Bridget Russell) | 2:24 |