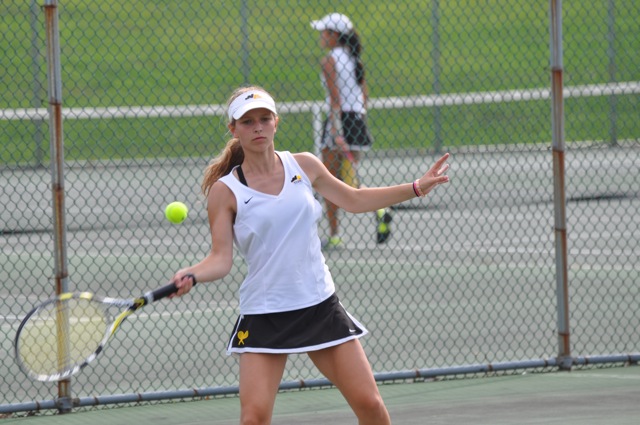 Lady Tigers Tennis Tops Talbots, 4-1
The North Allegheny Girls Tennis team claimed a 4-1 section win over the Hampton Talbots on Monday afternoon. Hampton's lone win came at #1 singles where Lucy Gloninger picked up a 7-6, 6-4, win.  After that, it was all NA as Anna Li and Tristyn Maalouf garnered singles wins over Rachel Harrison and Elizabeth Sader. Maddy Adams and Jenn Hofman swept past Erin Daly and Katie Mueller, 6-0, 6-0.  Likewise, Sydney Boyd and Catherine Zhang was perfect with a 6-0, 6-0, triumph over Celestel Luggers and Maria Sadak.
North Allegheny is now 12-0 overall and 9-0 in section action.  The Lady Tigers will visit Mars on Friday at 3:30 pm.  The WPIAL Singles Tournament will be held on Wednesday and Thursday at 2:30 pm.
Match Summary

NORTH ALLEGHENY - 4
HAMPTON - 1
SINGLES
#1
Lucy Gloninger (H) def. Tina Li (NA)
7-6, 6-4
#2
Anna Li (NA) def. Rachel Harrison (H)
6-0, 6-3
#3
Tristyn Maalouf (NA) def. Elizabeth Sader (H)
6-0, 6-1
DOUBLES
#1
Maddy Adams/Jenn Hofmann (NA) def. Erin Daly/Katie Mueller (H)
6-0, 6-0
#2
Sydney Boyd/Catherine Zhang (NA) def. Celestel Luggers/Maria Sadak (H)
6-0, 6-0
EXHIBITION
Catherin Liu/Elana Kolano
6-1, 6-1