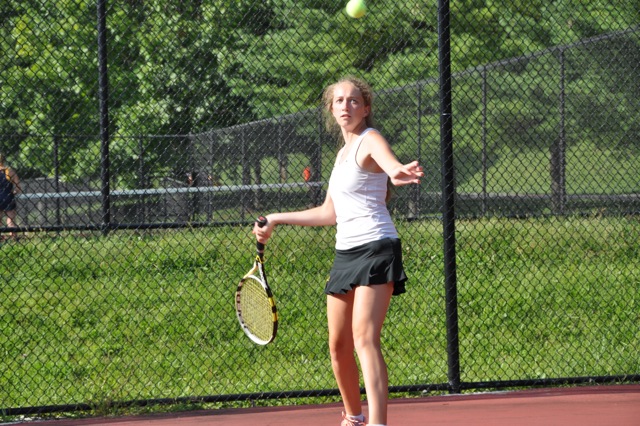 Lady Tigers Trounce Tribe
The rival North Hills Indians came to North Allegheny on Monday afternoon and returned to West View with a thorough 5-0 defeat at the hands of the Lady Tigers. After dropping the opening set to Helena Varys at #1 singles, sophomore Anna Li rebounded to win the next two sets, 6-0, 6-3.  From there, the Lady Tigers had little trouble with the Indians.
Eugenie Lee and Tristyn Maalouf breezed by their opponents in singles play.  In doubles action, Jacqueline Cannella and Catherine Liu delivered a clean sweep of Ann McConnell and Amanda Dumbar.  At #2 doubles, Elena Kolano and Emma Seymour delivered a 6-0, 6-1, win over Liza Winkler and Allyson Grtren.
With the win, North Allegheny leaps to 10-0 overall and 6-0 in section play. The Lady Tigers take on Shady Side Academy in a non-section affair today.  Start time is slated for 3:30 pm.
Match Summary

NORTH ALLEGHENY - 5
NORTH HILLS - 0
SINGLES
#1
Anna Li (NA) def. Helena Varys (NH)
5-7, 6-0, 6-3
#2
Eugenia Lee (NA) def. Sara Custer (NH)
6-0, 6-0
#3
Tristyn Maalouf (NA) def. Jamie Ley (NH)
6-0, 6-0
DOUBLES
#1
Catherine Liu/Jacqueline Cannella (NA) def. Ann McConnell/Amanda Dumbar (NH)
6-0, 6-0
#2
Elena Kolano/Emma Seymour (NA) def. Liza Winkler/Allyson Grtren (NH)
6-0, 6-1