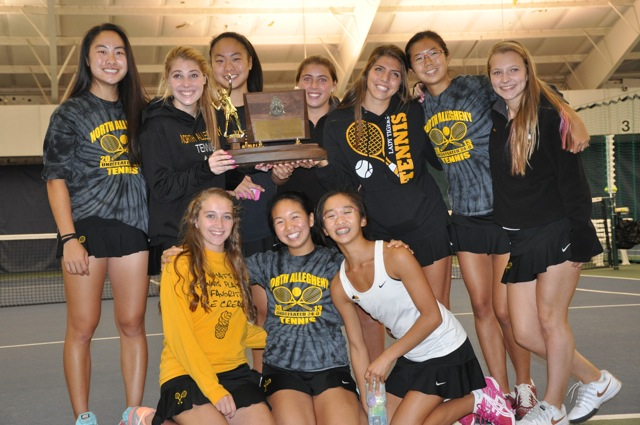 Lady Tigers Win Second Straight WPIAL Title
For the second straight season, the North Allegheny Lady Tigers met the Shady Side Academy Panthers for a WPIAL title. The result on Thursday afternoon at The Club in Monroeville was identical to that from a year ago as the Tigers clawed their way past the Panthers for a 4-1 victory and a second straight WPIAL crown.
At #1 singles, Shady Side's Anaya Dua picked up a hard-fought victory over NA's Anna Li, but it was the only win for the Panthers as the Tigers ruled the remainder of the day. Tina Li and Eugenia Lee claimed victories at #2 and #3 singles, respectively.
In doubles play, Tristyn Maalouf and Catherine Liu topped Devin Gramley and Mara Baron, 6-3, 6-2. Sydney Boyd and Catherine Zhang capped off the title with a 6-2, 6-3, win over Maria Jovin and Amy Donohue.
The two-time WPIAL champion Tigers improve to 20-0 on the season and will attempt to defend their PIAA crown next. North Allegheny will face District 10 champion Fairview on Tuesday at 2:30 pm at Lakevue Athletic Club.  For a look at the PIAA brackets, click here.
Match Summary

NORTH ALLEGHENY - 4
SHADY SIDE ACADEMY - 1
SINGLES
#1
Anaya Dua (SSA) def. Anna Li (NA)
1-6, 7-6, 6-0
#2
Tina Li (NA) def. Emma Perelman (SSA)
7-5, 6-2
#3
Eugenia Lee (NA) def. Lindsey Miller (SSA)
6-4, 6-1
DOUBLES
#1
Catherine Liu/Tristyn Maalouf (NA) def. Devin Gramley/Mara Baron (SSA)
6-3, 6-2
#2
Sydney Boyd/Catherine Zhang (NA) def. Maria Jovin/Amy Donohue (SSA)
6-2, 6-3