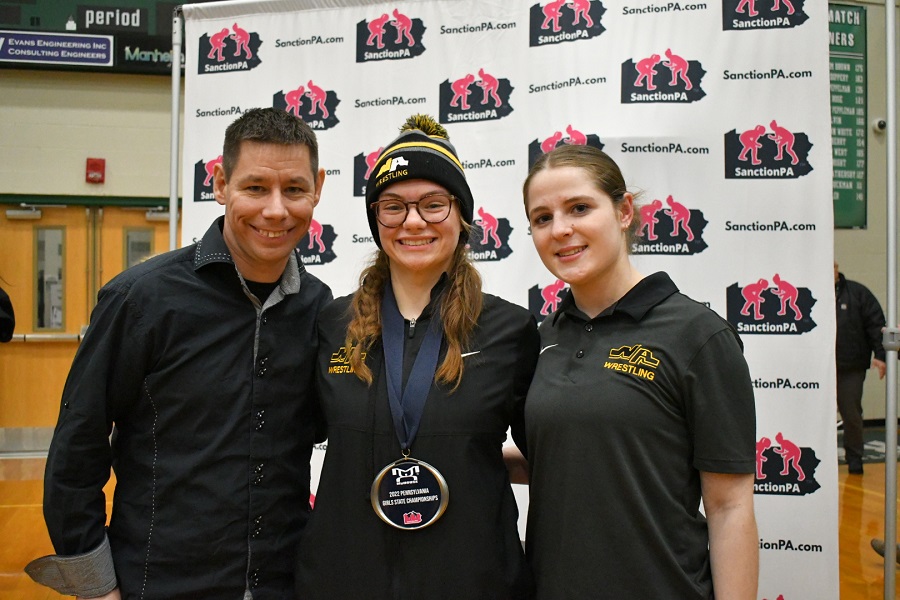 Leyna Rumpler Wins Silver, NA Places 8th at State Championship
The North Allegheny Girls Wrestling team traveled to Central Dauphin High School on Sunday to compete at the 2022 PA Girls High School State Championship. The Lady Tigers finished a program-best eighth out of 115 teams.
The Lady Tigers were led by sophomore Leyna Rumpler (148 lbs), who became the first finalist in NA Girls History. In her first round match, she defeated Katelyn Coldren of Carlisle by dec 12-6 (Coldren would finish in 6th place). She then picked up a fall in 0:56 in her quarterfinal match against Paula Sanchez of Valley. That win secured Rumpler at least a top six finish and she became the first ever NA Lady Tiger to place at the PA Girls High School State Championship. However, Rumpler had her eyes on a much bigger prize. Her semifinal matchup was against Mia Bumbarger of Pottstown. Last year Bumbarger beat Rumpler and denied her an opportunity to place at the state tournament. This year Rumpler flipped the script by picking up the fall in 3:18 and advanced to the State Finals. In the finals she fell to the returning State Champion and PA National Team Member, Patron Plummer, of Chestnut Ridge by fall 1:53. Rumpler finished the year with a record of 24-7, which is also a school record for most wins by a Lady Tiger.
At 142, junior Callie Rautenbach started the day with a first period fall over Kaleia Timko of McCaskey. In her second match she lost by fall to the No. 2 ranked girl in the country at 144 lbs in and eventual Champion, Grace Stem, of Bald Eagle Area. In the consolations, Rautenbach posted two decisions against teammate Audrey Morrison (8-2) and Nilaya Thomas of McCaskey (11-8). She then picked up a fall in 3:21 over Big Spring's Marlee Johnson. In her blood round match, she dropped a hard fought 7-0 decision to PA National Team member Paige Yatcilla of Parkland (Yatcilla would eventually take 3rd place). Rautenbach finished one win shy of a medal and finished tied for 7th.
Two freshmen recorded top 12 finishes. Brenna Collery (136 lbs) lost her opening round match by fall. She then recorded three straight wins including one by fall before falling to MaKenna Stratts (Central Mountain). At 190, Kaylee Dean picked up one fall along the way with her only losses to the eventual 5th and 6th place finishers.
At 100 pounds, junior Hannah Williams finished with a 2-2 record with 2 falls. Senior Taylor Stover (118) and freshman Maya Scott were both 1-2 with 1 fall. Sophomore Audrey Morrison also competed at 142.
Tournament Results can be found by click here.