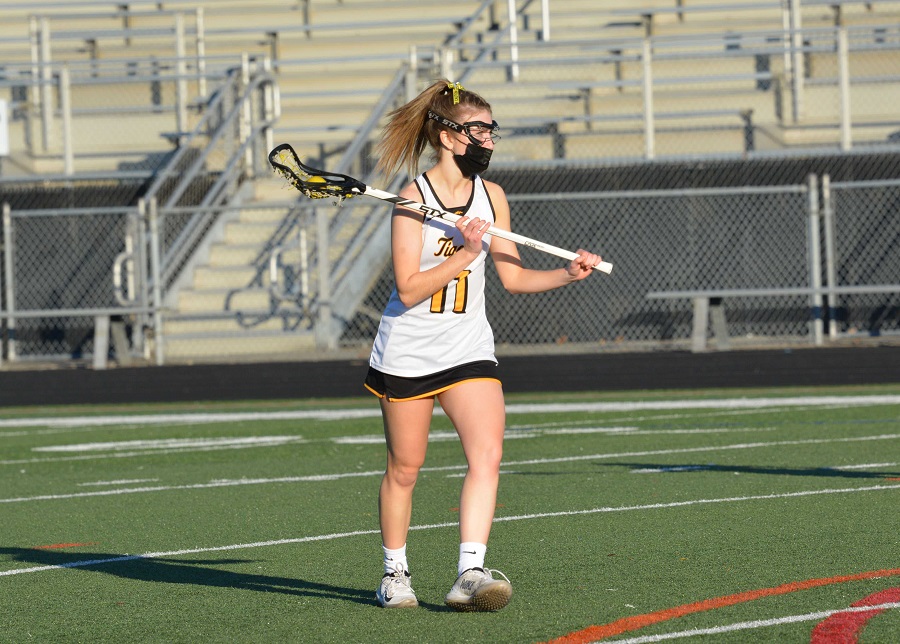 Lola Wilhite's Six Goals Sparks Blowout Of South Fayette, 18-3
The North Allegheny girls' lacrosse team made a splash in the home opener on Monday night at Newman Stadium with an 18-3 triumph over the South Fayette Lions in non-section action.
The Tigers wasted little time against the Lions when senior Makenna Tuman won the opening faceoff and senior midfielder Lola Wilhite raced toward the SF goal and scored just 10 seconds into the game for an immediate 1-0. It was the first of six goals on the night for Wilhite, who added two assists and earned Wright Automotive Player of the Game honors.
Following Wilhite's opening goal, the rout was on. In all four players netted hat tricks in the win. Along with Wilhite's big night, seniors Alyssa Redshaw and Skye DePrado tallied four goals each, and junior Bella Falo scored three goals. Contributing to the NA onslaught was senior Katie Oates with a pair of goals. Redshaw and Falo added two assists each. In net, freshman Izzy Trunzo made six saves and earned her first varsity win.
North Allegheny improves to 1-1 following the blowout victory. South Fayette drops to 1-1. The Tigers look to build upon the win with a home game against Oakland Catholic on Tuesday night. The game will be broadcast live via the internet on the North Allegheny Sports Network.