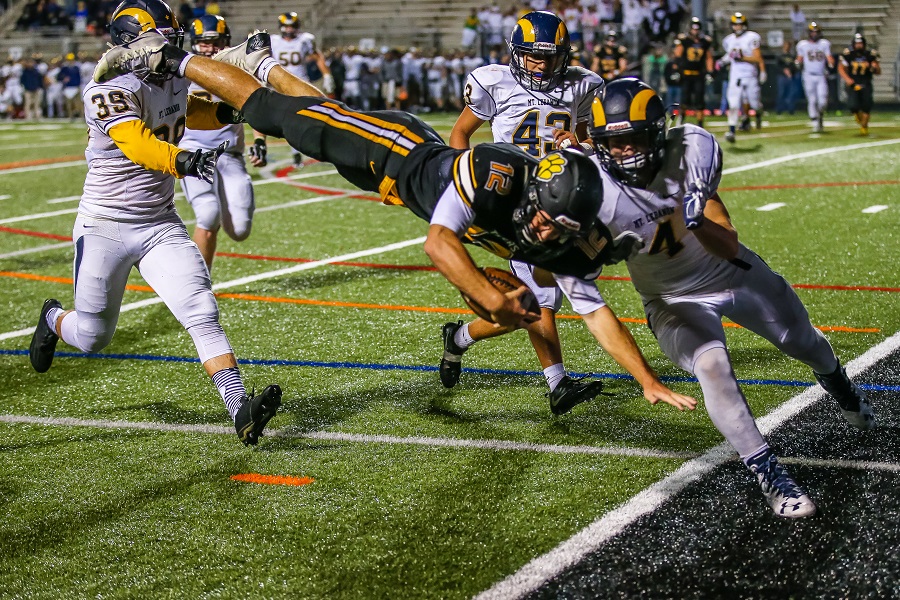 Maenza's 3 Touchdowns Vault NA Over Mt. Lebanon, 22-15
North Allegheny rallied from a 12-point deficit to beat the Mt. Lebanon Blue Devils on Friday night, 22-15, in a Class 6-A non-conference battle. Senior quarterback Ethan Maenza rushed for 219 yards and three touchdowns to spearhead the Tigers comeback victory. For his efforts, Maenza was named the Wright Automotive Player of the Game.
The Tigers received the opening kickoff and marched the football to the Mt. Lebanon 23-yard line before an NA fumble ended the drive. The Blue Devils promptly, and systematically, drove 77 yards in eight plays for the game's first touchdown. Junior quarterback James Stocker tossed a 10-yard touchdown pass to a slanting Jack Young who made a juggling catch for a 7-0 Mt. Lebanon lead with 7:23 to go in the first quarter.
Mt. Lebanon started another scoring drive midway through the second quarter. The Blue Devils possession stalled at the NA 4-yard line and almost ended in disaster when Maenza jumped a slant pattern by Young and nearly intercepted the pass. Mt. Lebanon salvaged the drive with a 21-yard field goal by Garrett Montilla for a 10-0 lead with 5:07 remaining in the second quarter.
North Allegheny was forced to punt on its ensuing possession and the snap to punter Luke Trueman sailed over his head and into the end zone. Making the most of a bad situation, Trueman kicked the ball through the back of the end zone for a safety and the Blue Devils held a 12-0 lead.
Despite receiving the football directly following the safety, the Mt. Lebanon offense was forced to punt with a little over one minute remaining in the half. Running idle most of the half, the Tigers offense finally found its gear to gain some valuable momentum. Maenza threw a 39-yard pass to Niko Mermigas to take NA to the Mt. Lebanon 12-yard line. A personal foul penalty on Mt. Lebanon gave the Tigers a 1st and goal and the Tigers capitalized two players later on 1-yard touchdown plunge by Maenza to trim the deficit to 12-7 with 24 seconds left before halftime.
After a scoreless third quarter, North Allegheny mounted a 16-play, 83 yard drive that culminated with an 8-yard touchdown run by Maenza. On the play, Maenza outran a Mt. Lebanon defensive lineman, leaped over a defensive back and vaulted into the end zone for the go-ahead touchdown and a 13-12 lead. Mermigas added a successful two-point conversion run for a 15-12 lead with 8:53 to go in the fourth quarter.
The Blue Devils answered with a 63-yard drive but again stalled deep in Tigers territory. Stocker had one potential touchdown pass called back on a penalty and two more passes batted away in the end zone on excellent plays by Maenza and defensive back Alex Mesaros. Mt. Lebanon had to settle for another Montilla field goal, this time from 32 yards out, and the game was tied at 15-15 with 6:46 remaining.
With score tied and pinned back at its own 5-yard line, North Allegheny embarked on a 95-yard march and game-winning touchdown drive that ended with a 7-yard scoring run by Maenza to put NA ahead for good, 22-15, with 2:52 left to play. Mt. Lebanon had one last chance but couldn't move the ball past midfield against the Tigers defense.
With the win, North Allegheny's third in a row, the Tigers improve to 4-2 overall. Mt. Lebanon drops to 3-3 following the non-conference contest. North Allegheny returns to North Seven Conference play next week with a visit to Penn Hills.
(Photo by J.J. LaBella.)
Football Summary vs. Mt. Lebanon, 9-30-16
| GAME SUMMARY | | | | | |
| --- | --- | --- | --- | --- | --- |
| SCORE BY QUARTERS | 1 | 2 | 3 | 4 | FINAL |
| Mt. Lebanon | 7 | 5 | 0 | 3 | 15 |
| North Allegheny | 0 | 7 | 0 | 15 | 22 |