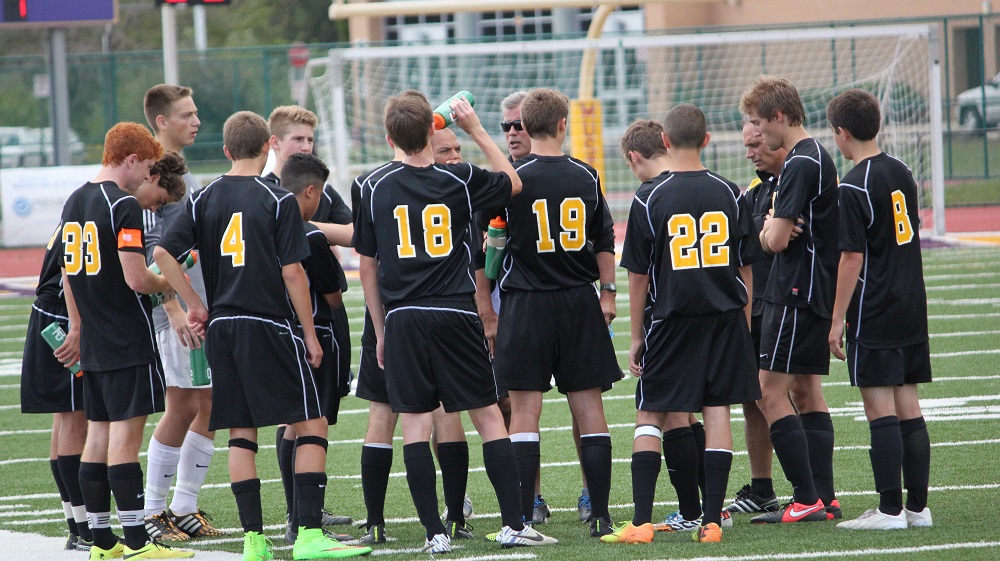 MARS TOPS TIGERS 2-0
Mars entered the game with an undefeated record of 10-0 outscoring their opponents at will and playing against a recently stingy and surging North Allegheny squad. The Tigers started out quickly with Michael Peters crossing a ball into Josh Luchini at 38:26 who headed it off the post just missing giving NA the lead.  Luchini had another shot that was saved a few minutes later from a diving goalie and moments later Bobby Upton hit one just wide at 27:40 off a Steve Binnig pass.  Mars kept up their end of the competition in this game as they had a few quality shots on Luke Nolan that were saved, but at 21:10 Adam Maloney saved a goal with a stellar defensive play on a ball that was ready to cross the goal line.  Again at 18:17 Nolan made a save on a shot from 10 yards out and Luchini stole a ball and broke in alone on the Planet goalkeeper only to see the shot go wide.  Jason Earle had a chance at 10:30 that also went wide of the Mars net.  At 7:24 a Mars forward had a breakaway attempt on Nolan only to see it sail high and preserve the deadlock.  Again, at 4:09 Luchini had another breakaway opportunity on a feed from Upton, but the aggressive Mars keeper made a crucial save.  In the ensuing minutes at 2:30 Nolan made a save on a breakaway along with another quality save at 1:39 ending the exciting half at 0-0.  In what many thought was the most entertaining half of the year from both teams North Allegheny and Mars both had 8 shots, many quality types while the Tigers enjoyed a 3-0 corner advantage.
Mars came out aggressive in the second half and put two early shots on the Tiger net, along with two corners.  At 32:17 Coach Vosmaer looked to his bench for a spark and entered Nate Hall, Sebastian Vasquez and Chip Dougherty.  Joseph Ulomi had a shot at 31:11 from close range that was saved along with a shot wide by Vasquez passed in by Evan Gick who recently joined the contest.  Mars started to work the ball down the field during the ensuing possessions and at 19:36 Noah Hudac received a pass up over the Tiger defenders and placed the ball in the corner of the net past a sprawling Nolan to give Mars a 1-0 lead.  Shortly thereafter North Allegheny was called for a foul and from 25 yards out a free kick was put right into the box and Mars midfielder Cory Ferguson made the Tigers pay heading it into the net for a 2-0 lead.  At 17:06 Ben Cinker, VJ Marzula and Dillon Thoma joined the fray and put into action.  Josh Krassenstein replaced Nolan in net at 9:05, but neither Mars nor North Allegheny could muster any shots on goal during the remainder of play and the game ended 2-0 Mars.
North Allegheny falls to 8-4-1 overall and next plays at Pine Richland on Thursday October 2nd at 730pm in an important section matchup while trying get back on the winning track.
The boys welcome all fans to come root them on against the Rams that tied the Tigers 0-0 in double overtime in the first meeting.