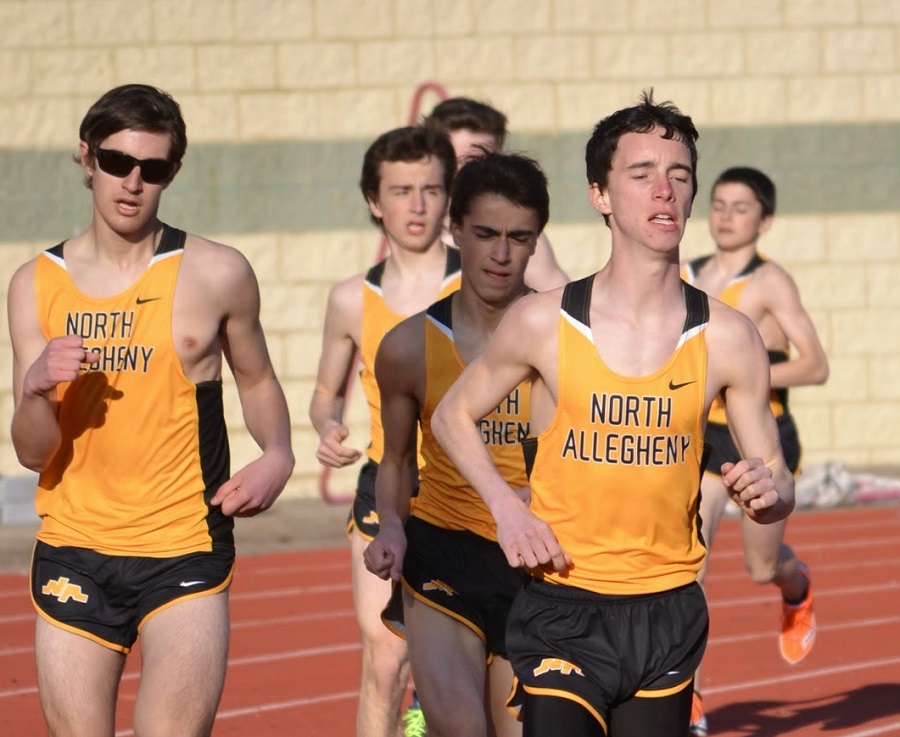 McGoey and Wharrey lead the way
Seniors Matt McGoey and Hunter Wharrey led the distance crew to a dominating performance on the track at Saturday'sTri State Invitational.  McGoey won top honors in the 3200m with Wharrey following closely behind.  Jake Stupak and Scott Seel both placed second in the 1600m and 800m, respectively.  The 4×8 relay consisting of Charles Oesterich, Caleb Schaelchlin, Chrisitan Parreaguirre, and Zach Ehling raced to a 3rd place podium finish as well.  In the field events Andrew Manz and Jacob Fritsch threw the Javelin to secure 2nd and 4th place while Adam Maloney outjumped all contestants except one in the long jump.  On the track Ijhad Bonner sprinted to a 3rd place medal in the 100m dash and Ayden Owensplaced 4th in both hurdle races.  The collective effort of the Tigers secured a first place victory over the host school West Mifflin (2nd) and 26 other teams that competed.
Senior Nicole Rich was the highest placing medalist for the Lady Tigers with a 2nd place performance in the 400m Dash. Rich, along with teammates Josie Landis, Maria Gonchar, and Anna Verardi also placed 2nd in the 4 x 400m Relay.  Other podium finishes included Jolene Yon in the High Jump (3rd), Claire Fiffik in the 200m Dash (4th), and Clara Savchik in the 3200m (4th).  Mount Lebanon won the Invitational and the Lady Tigers finished in 3rd, just a few points behind runner-up Villa Maria.
The Tigers will be traveling to Martorelli Stadium on Tuesday to take on sectional rivals North Hills and Pine Richland.