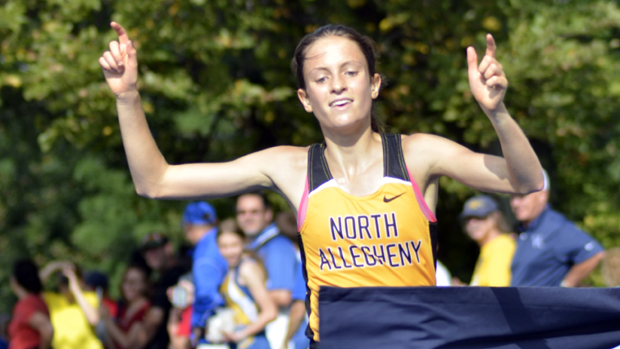 McGoey, Davison Set New Course Records At Tri-State Invitational
On Thursday, the NA Boys' and Girls' Cross Country Teams competed in the last invitational of the season on the campus of California University of Pennsylvania.  Senior Matt McGoey and junior Madeleine Davison both ran away with the meet, each setting new course records and claiming the overall championship.  McGoey was the only competitor of the day to go under 16 minutes, running a blazing 15:55 to set a new course record.  Fellow seniors Hunter Wharrey and Scott Seel also had standout performances, finishing second and fifth overall.  Led by the stellar performance of the seniors, and juniors Jacob Stupak (12th overall) and Marc Migliozzi (18th overall), the Tigers destroyed the competition.  The Tigers scored a mere 38 points, winning by 42 points over WPIAL rivals.
The Lady Tigers also had a successful day.  Davison set a new course record beating the completion by 50 seconds, with a winning time of 17:59.  The girls' team placed second scoring 74 points, thanks in part to all five scorers placing in the top 25.  The top five Tigers included Davison, Clara Savchik (13th), Erin Keelan (17th), Madissen Steiner (18th), and Tess Wright (25th).
Both the North Allegheny Cross Country squad will gear up to compete in the WPIAL Championships next Thursday at Cooper's Lake.  The girls' team will attempt to bring home a WPIAL title for the first time since 2004, while the boys' team is attempting to continue as WPIAL champs for the 10th consecutive year.